Audio, Audio & Audio! Yes, you may have heard about it a million times. Nowadays, audio is becoming more and more popular among users as it is one of the most sought-after content types available. Consuming content has never been easier. With audio, people can consume content whenever they want & wherever they want.
An increasing number of consumers are seeking spoken-word audio content. Thus, audio content can be an ideal way to grow your audience and increase revenue. With Listen2It, you can create audio quickly, easily, and affordably.
You need to know these 20 things about audio:
1) Most US 12+ population listen to audio every month, approximately 193 million people or 68% of the population, an increase of about 1 million since 2020.
2) There are estimated to be 176 million ( or 62% of the population) US 12-plus audio listeners online weekly. Compared to 2020, this is an increase of 7 million or 60% of the population.
3) There was a significant increase in listening time from 15 hours and 12 minutes in the 2020s to 16 hours and 14 minutes in 2021.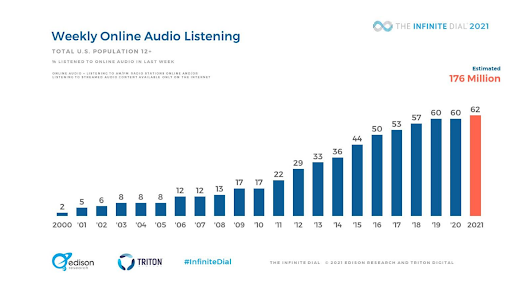 Image Source: The Infinite Dial 2021
According to eMarketer estimates:
4) US adults spent an average of one hour, 29 minutes listening to digital audio per day, an increase of 8.3%.
5) By 2022, the typical time spent listening per day should increase to 1 hour and 37 minutes.
6) There were more than 2 hours and 5 minutes of active digital audio listening per day in 2020, & that is likely to increase to another five minutes in 2021.
7) In 2020, over 70% of US adults listened to digital audio monthly, and 91.7% used mobiles for the same.
8) In 2021, digital audio will account for 11.7% or 1 hour and 34 minutes of daily audio consumption.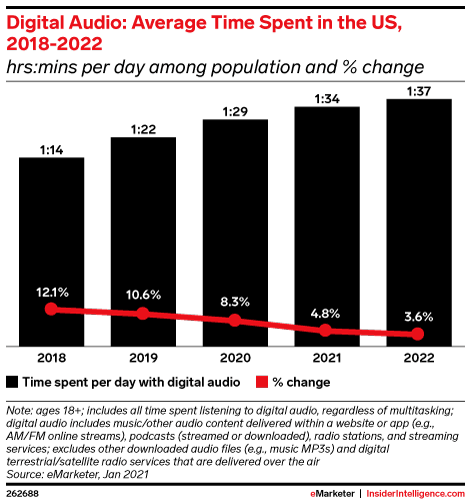 In terms of audiobooks and articles:
9) Approximately, 131 million people listened to audiobooks in 2021, which is close to 46% of the US 12+ population.
10) With people stuck at home in 2020, audiobook revenue recorded a more than 17% increase compared to 2019.
11) In 2021, the audiobook market revenue will be $1.3 billion.
12) The audiobook market size is predicted to increase by 5.5% in 2021.
13) 75% of Americans listen to spoken audio every month, and almost 43% listen to it daily.
14) The average person who listens to spoken-word audio daily spends nearly two hours a day listening, about half or 48% of their listening time each day.
15) In the U.S, spoken-word listening accounts for 26% of all listening, up from 24% in 2019.
16) Mobile technology is driving audio listening as 30% of all listening on smartphones is spoken-word audio.
17) As a result of Covid-19, 40% of spoken audio listeners age 13+ are listening more due to quarantine restrictions.
Audio advertising has a significant impact:
18) Over $350 million in digital audio advertising revenue was generated in 2020, up by 13% to a total of $3.085 billion.
19) Mobile audio revenue is expected to grow at a 15% rate in 2020 over desktop revenue, with 8 of every 10 dollars linked to mobile devices.
20) According to 42% of respondents, audio ads are more likely to capture their attention than ads heard or seen elsewhere.