Best text to speech software is the new tool required to boost your marketing efforts. We all are aware of the ever-growing digital industry and how every day is a competition of producing the best and being relevant. And likewise, the audio content industry, a piece of the pie of the digital sector, is an evolving market, and text to speech and voice-over have a major share in it. With 62% of the Americans above 18 years of age using voice assistance devices, and 57% use voice commands daily according, to Edison research 2022
The 20th century has truly embraced the value of voice whether it is in the workplace or gender equality. Voice has never been voiced like this before. From catchy slogans to taglines to dramatic videos and now audio content(realistic text to voice) the digital marketing landscape has an amazing growth graph for brands to create a unique identity.
A text-to-voice reader is a fantastic platform for creators at different levels to build a unique brand identity. A budding Content Creator, a Marketing Manager, or a Business can use a realistic text to speech converter to ramp up their marketing efforts. It is very important to choose the best text to speech converter software that matches your needs. A text to speech tool with a download option is a great tool to have in your tool kit as it will help you not only in creating audio articles but also downloadable voice overs for your videos, presentations, pitches, and much more.
List of text to speech tools
Listed below are the best text to speech tools with download options,
Here's what you need to know before investing in a text to speech online software,
Be sure of what kind of brand image you want to create, in which language, tone and choose the voice accordingly.
Make sure that the text to voice generator you use should have an unlimited preview option to test your product
Use text-to-speech mp3 with natural voices that provide commercial licence.
In line with your product requirements make sure that you choose the best text-to-voice generator that suits your storage requirements.
CMS integration is an important feature that the best text to speech converter software should carry.
TTS software you choose should be a one stop solution it should eliminate all the manual work of recording and adding voice.
AI voice generator or text to voice synthesis should cater your need to create unique brand identity with liberty to design your audio player for your blog to creating a unique voice.
And lastly, budget is really important hence make sure that you get the best text to speech converter deal for you in monetary terms. Read further to make your decision.
Detailed features of best text to speech tools
Listen2it creates instant audio versions of your content by using life-like voices. A text-to-voice generator with 800+ voices in 70+ different languages Listen2it is the perfect best text to speech online with download option if you are looking for a unique brand voice. The high-quality text-to-speech software has the only free trial option in the market where you get to try all the features. Increase your audience engagement and drive your business growth with a unique brand voice with Listen2it's text to voice converter software.
Features of Listen2it
Listen2it is the only text-to-speech online software with a download option that has a free trial option with every plan, this gives you the ability to explore all the options Listen2it has to offer.
Multiple player designs that are customizable and mobile-ready great for multiple forms of content.
Listen2it has its WordPress plugin and works seamlessly with any form of CMS by using a universal code for integration.
With the variety of voices and languages provided Listen2it provides full control of the audio in terms of speed, quality, volume, and pitch.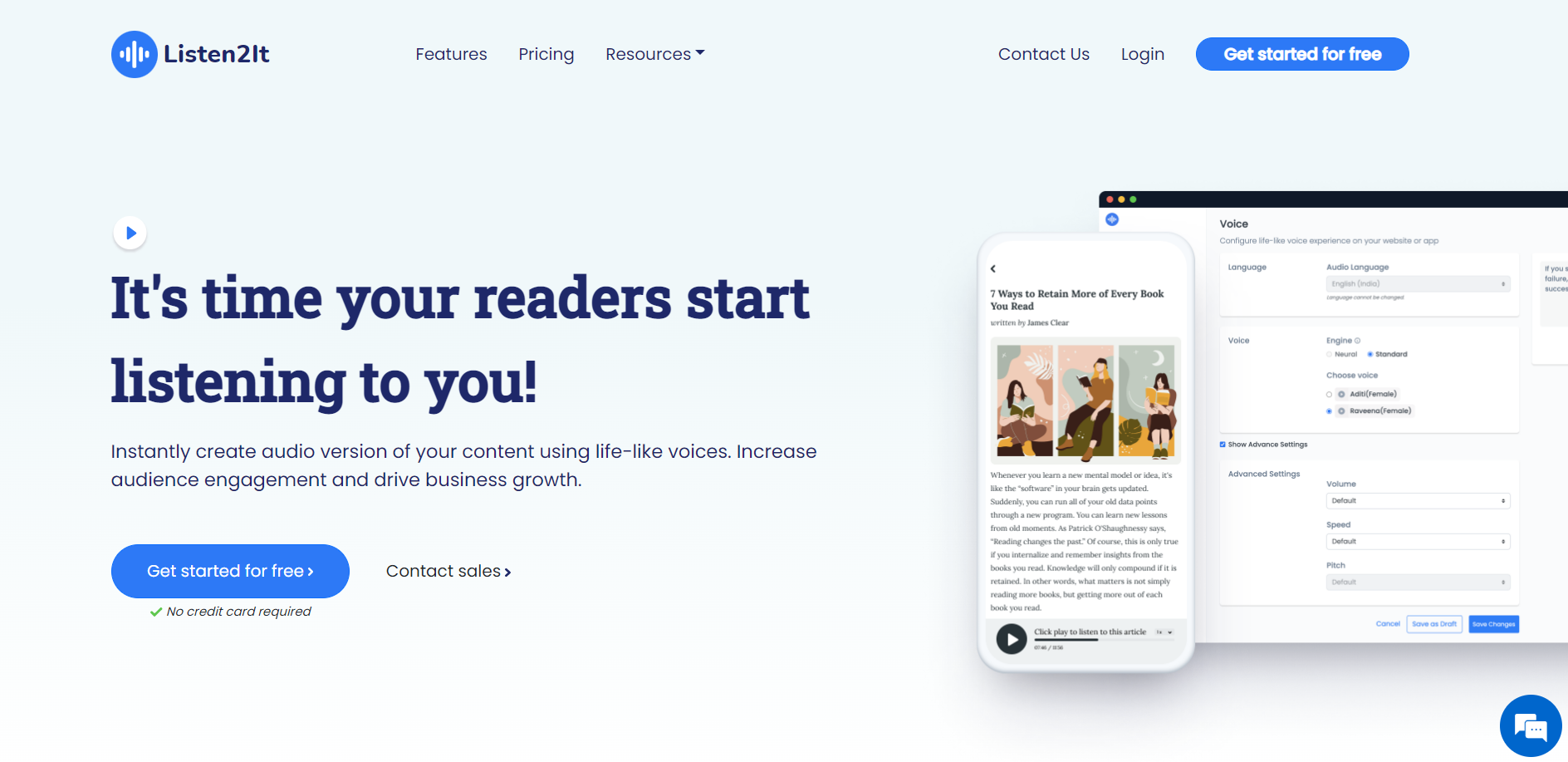 Pricing
14 day free trial with every plan
| | |
| --- | --- |
| Personal | $9/month |
| Professional | $19/month |
| Growth | $59/month |
| Business | $119/month |
Murf is a text-to-speech converter tool that specialises in speech synthesis technology where you can convert your text to voice-over with an option of 20 languages in 120+voices both female AI voice generator and male AI voice generator options. All in all, Murf is aiming towards providing a package solution to voice audio needs with artificial intelligence.
Features of Murf
Generate voice-over from text using real human-like voice from an option of 120+ voices, in 20 different languages.
Edit your voice by changing the speed, volume, and pauses to deliver the perfect narration.
With Murf's Enterprise team plan, you can access the pronunciation library, SLA, and control and also enjoy unlimited downloads.
With the Enterprise plan of Murf, you have access to all the 20 languages and 120+ voices.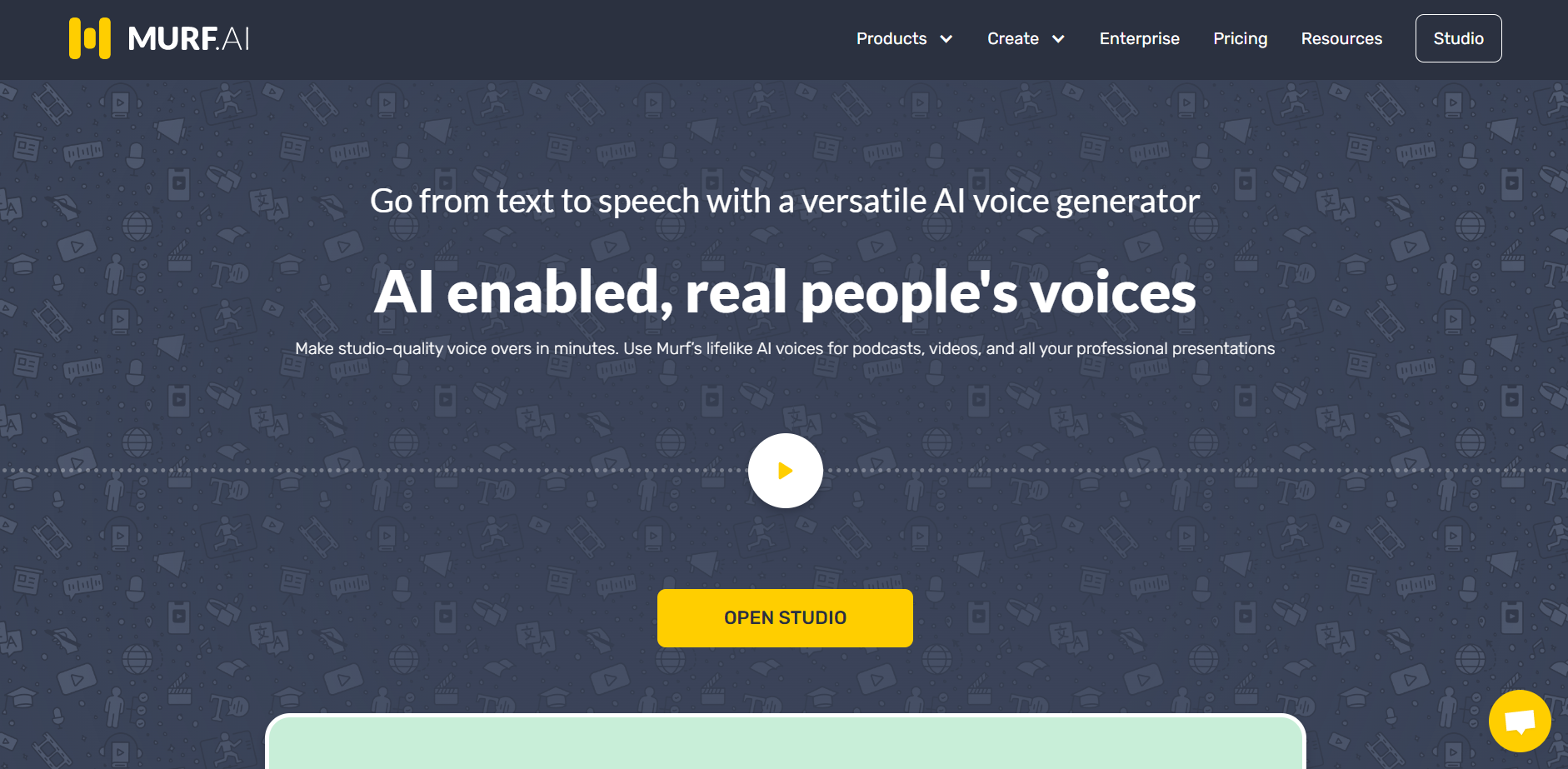 Pricing
Free Plan with few features
| | |
| --- | --- |
| Basic | $13/month |
| Pro | $26/month |
| Enterprise | $167/month |
With a belief that speech is the next big thing on the internet and the best form of user experience. Play.ht has a whopping 800 AI voices that run across 132 languages in accent. If you are looking for a unique brand voice Play.ht is the perfect text to speech with download option for you.
Features of Play.ht
Play.ht has a vast audio voice-over library where you can find almost any voice that suits your brand.
Various audio export format options are available at play.ht
On the homepage itself, you can get a demo of what your experience will be with play.ht
To make the audio sound realistic Play.ht has a feature of speech styles where you can change the emotions and personalize your audio even further.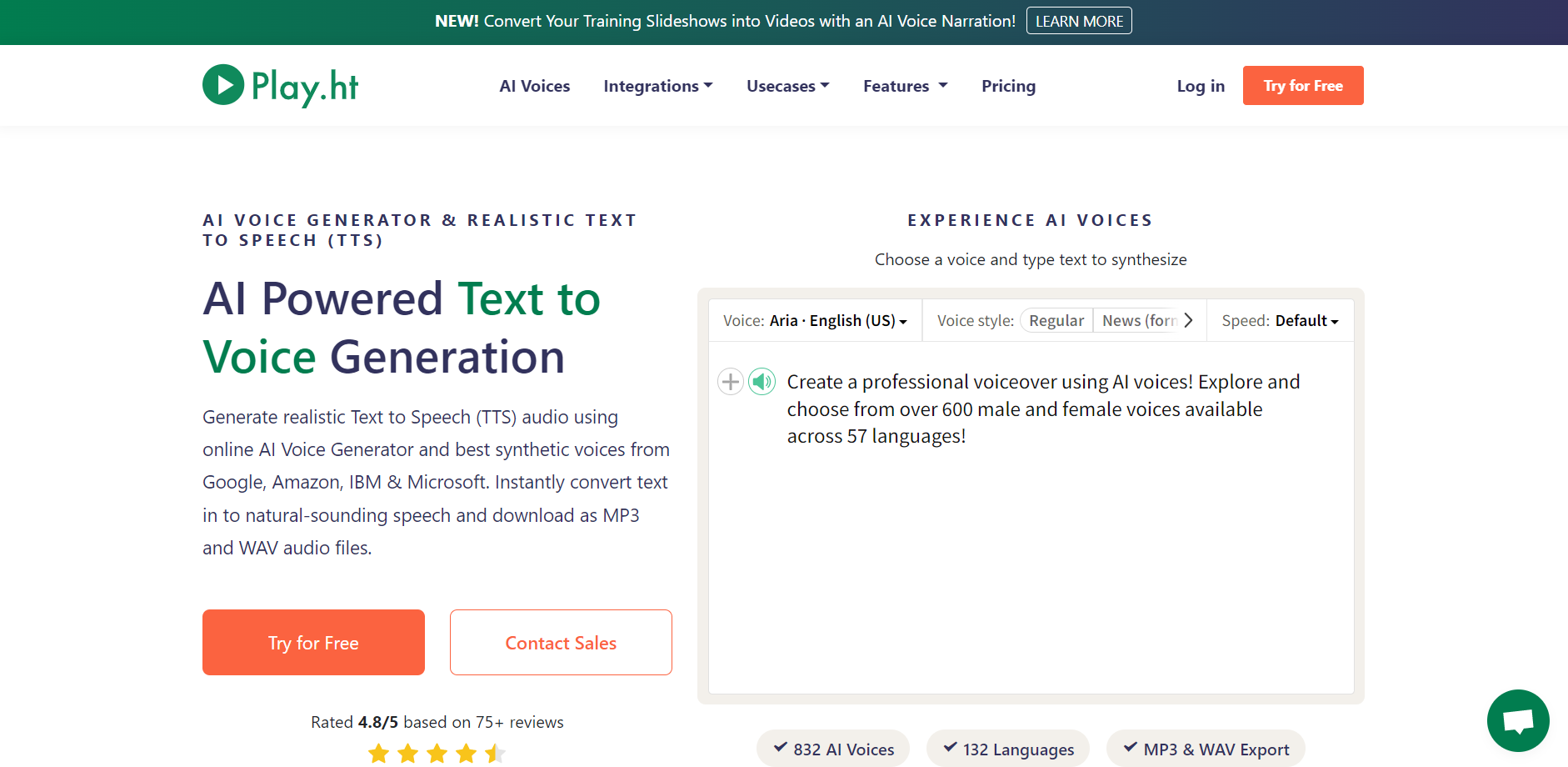 Pricing
| | |
| --- | --- |
| Personal | $14.25/month |
| Professional | $29.25/month |
| Growth | $74.25/month |
| Business | $149.25/month |
Notevibes is text-to-speech with downloadable software that has a demo option on the home page. With 225+ voices in 25 different languages, Notevibes is a great TTS software for personal use like e-learning to commercial use like youtube, TV, broadcast, voice-over etc.
Features of Notevibes
The AI text-to-speech audio can be downloaded in two formats, MP3 and WAV.
The pitch and speed of the audio are editable in Notevibes.
Notevibes has an amazing pay-as-you-go option which is great for people who are experimenting with artificial intelligence voice generators.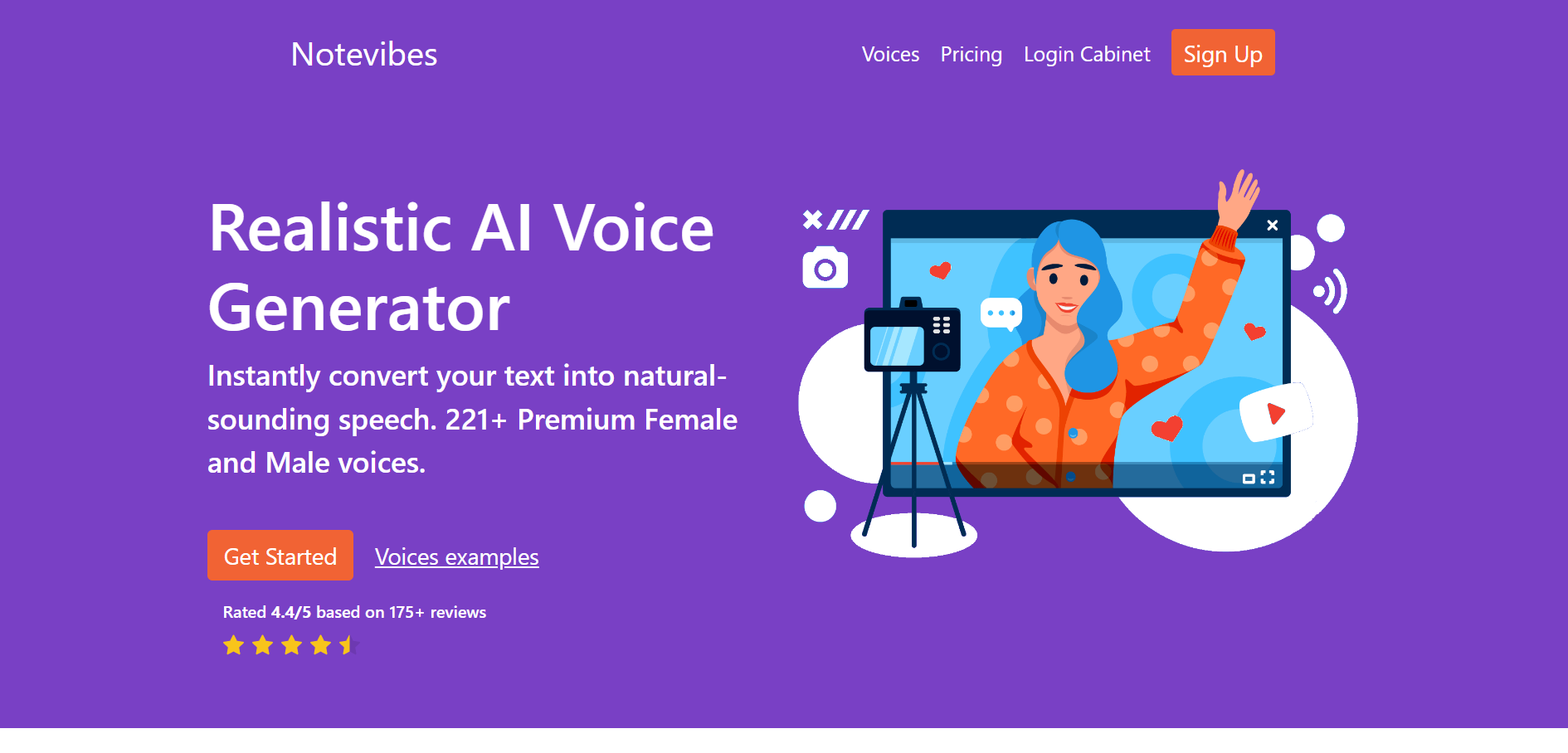 Pricing
| | |
| --- | --- |
| Personal | $19/month |
| Professional | $90/month |
| Corporate | $4000/year |
With a vision to reach as many people as possible Trinity audio came into existence by content technology experts. Trinity provides AI audio solutions in around 125 languages.
Features of Trinity Audio
Translation, Neural voices, and Speed testing are provided with every plan except for the free version.
Pronunciation editor and Monetization facilities are available with a premium version.
Trinity audio has a free version which is free to test out how the product will sound.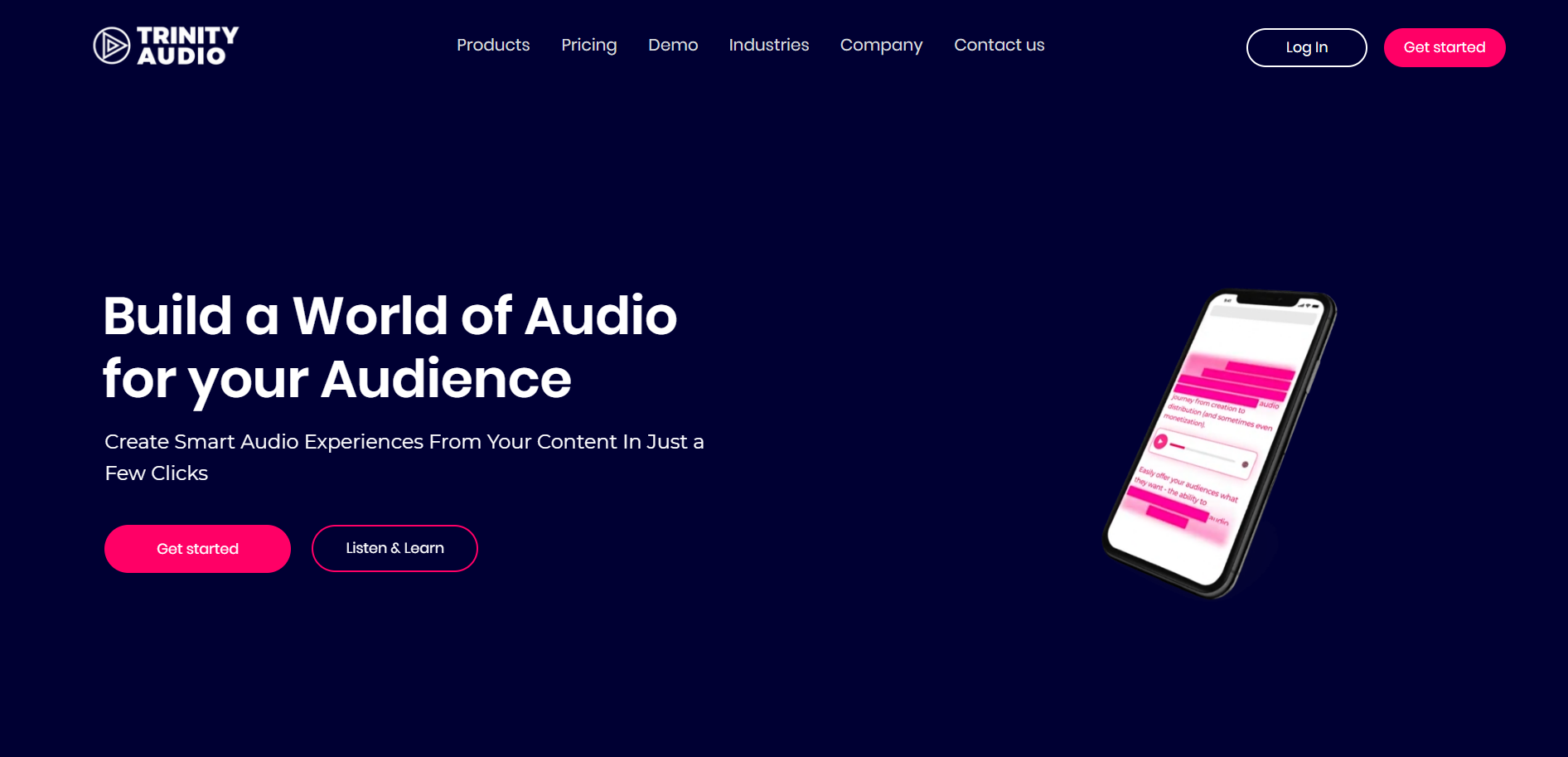 Pricing
Free plan
| | |
| --- | --- |
| Basic | $18.99/month |
| Standard | $85.99/month |
| Advance | $178.99/year |
| Premium | Contact Sales |
Speechelo is an AI audio cloud-based product that provides authentic voices in various expressions. Speechello provided AI-generated audio in 23 languages with an option of voice tones, pauses, and speed changing. Speechello is an excellent text to speech online software with a download option for video voice overs.
Features of Speechelo
The TTS reader of Speechelo has three tones to read: joyful tone, normal tone, and serious tone.
Speechelo is great for integrating with video creation like iMovie, Premier, Adobe Camtasia, etc.
With 30 human-like voices and in both female and male options Speechelo has great variety.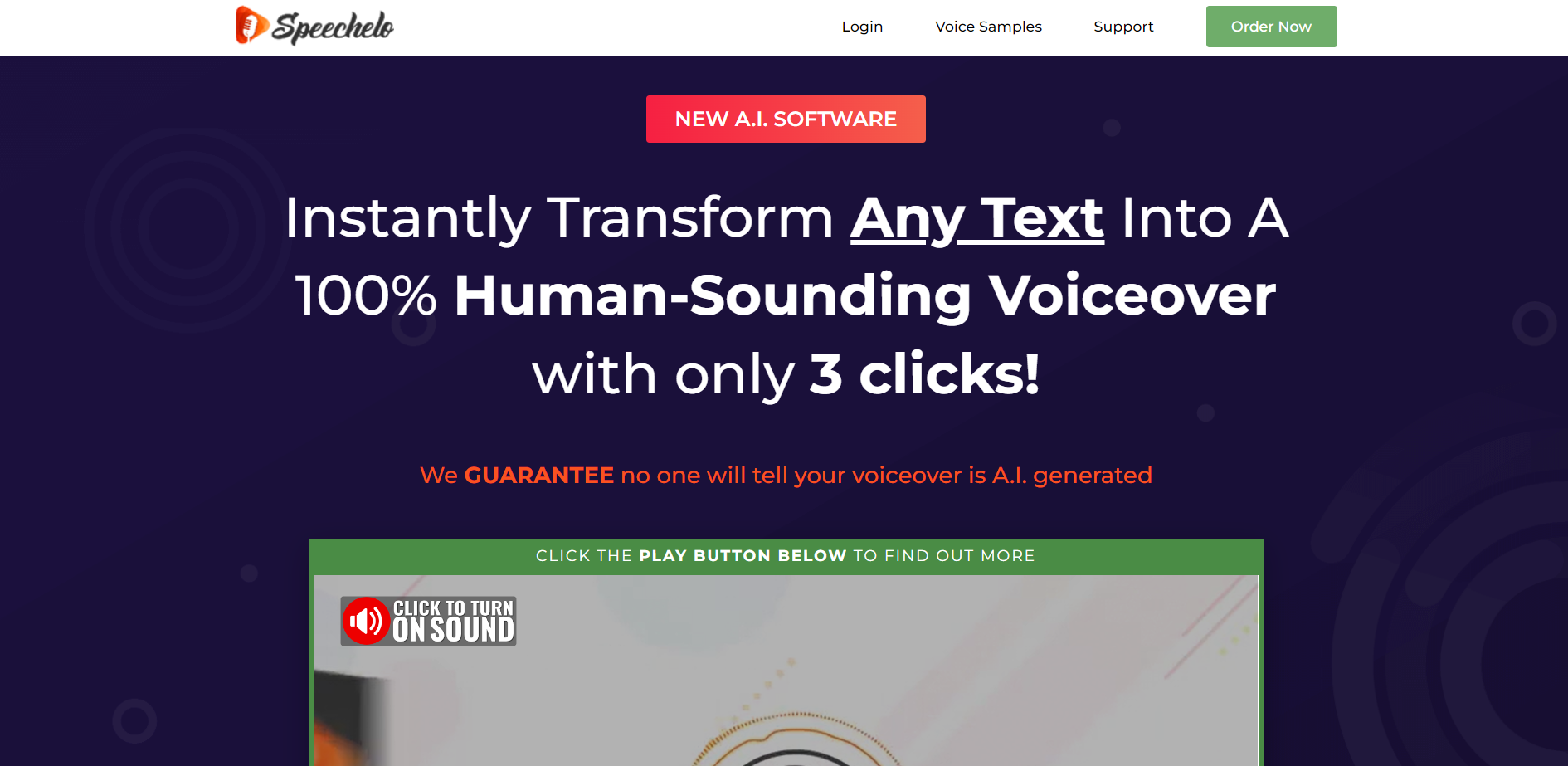 Pricing
Listen2it is the best text to speech online download option software for you,
If you are in search of the best text to speech online downloadable software, Listen2it won't disappoint you. With features like a one-stop solution to all your audio needs with a complete audio suite that provides text to speech for audio articles, text to voice overs for creating a realistic voice over your videos, google slides, social media, and pitches, and a podcast hosting platform Listen2it is a complete package
Built for all use cases and business types, Listen2it gives you an amazing opportunity to try out all the features that the tool has to offer in a 14-day trial so that you can try 70+ languages in 800+ voices that Listen2it has to offer. Try it yourself!
In order to choose the best text to speech online download option, you first need to list down your requirements and set your priorities. Having access to a trial or a free version can assist you to paint a picture of how your content will form. The text-to-speech tool market is full of options. Choose wisely!