Adding voiceover to the video has never been more important than now! It is essential to know how to present a video with proper narration and how to add text and voice to the video. Having suitable narrations and relatable visuals can help in effectively communicating the message. Adding voiceover to a video can tap multiple senses of the target audience like visual aid and an audio recall.
Visualize sitting in a theatre and watching The Sound of Music or Harry Potter with no audio. The authentic charm of these famous movies will be lost in silence without any dialogue, songs, or significant sound effects. A well-crafted video with spotless narratives and perfect sound effects can efficiently reach vast audiences of various segments. Hence, a great video with a narrative and a good story is a must. Knowing how to tell a story, edit a video, and how add text voice to a video is a great skill.
Methods of adding voiceovers to video,
Record a voice-over artist's voice and integrate it into a video
Use text-to-speech tools to generate voiceovers for video
Use pre-recorded voices; make sure to use well-sourced voices that are royalty free or pay for them.
Using text to voice generator for adding voiceover to videos can easily switch days' efforts into minutes. Book a call with Listen2It and talk to us, and learn more about adding voiceover to videos through a text-to-voice generator.
How to add voice-over to a video using a text-to-voice generator?
Create a Listen2It account; it is free!! Now explore every feature of Listen2It with full suite audio with Listen2It 14-day free trial.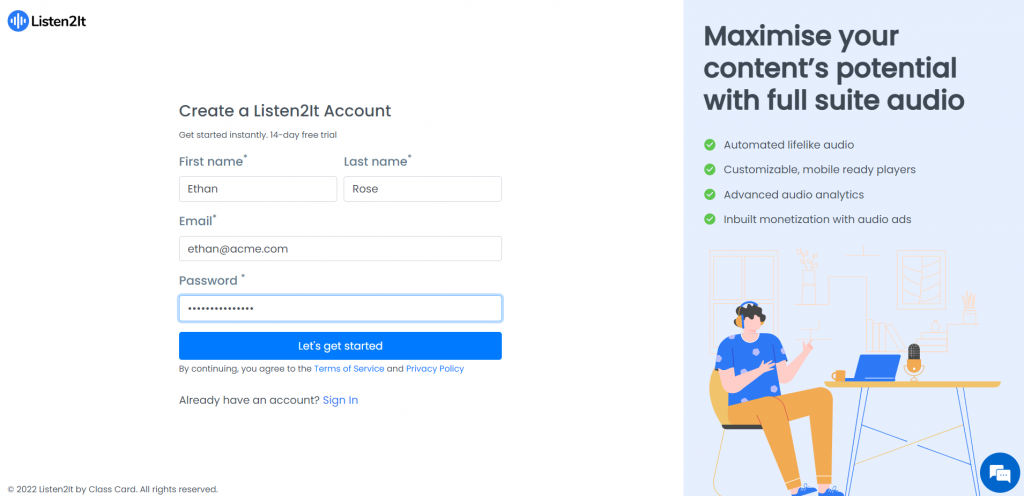 Next, verify your email address, choose the plan you desire, and your account is ready.
Step 2. Create a new Listen2It project
With Listen2It, one can create multiple projects giving the flexibility to have multiple voices with different projects and also aiding in better organization of various assignments. Enter the project name and choose from 75+ languages in 800+ voices for the project.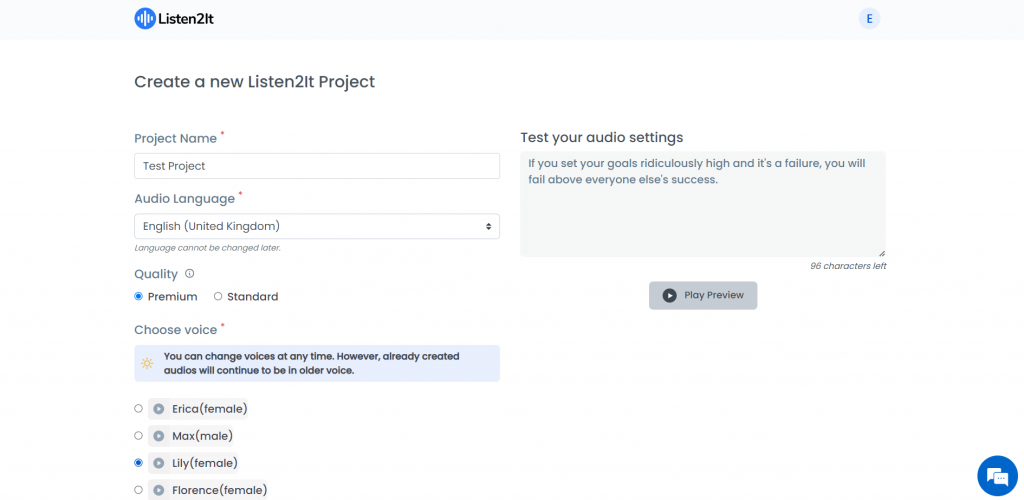 The preview option is noteworthy to experience a mini trailer of how the text-to-voice in the video will sound.
Tip: With the advanced setting, choose the audio's volume, speed, and pitch. These options are also available in the editor.
Hit create a project to start.
Step 3. Create an Audio
Once the project is created, click on using the text editor to start generating audio.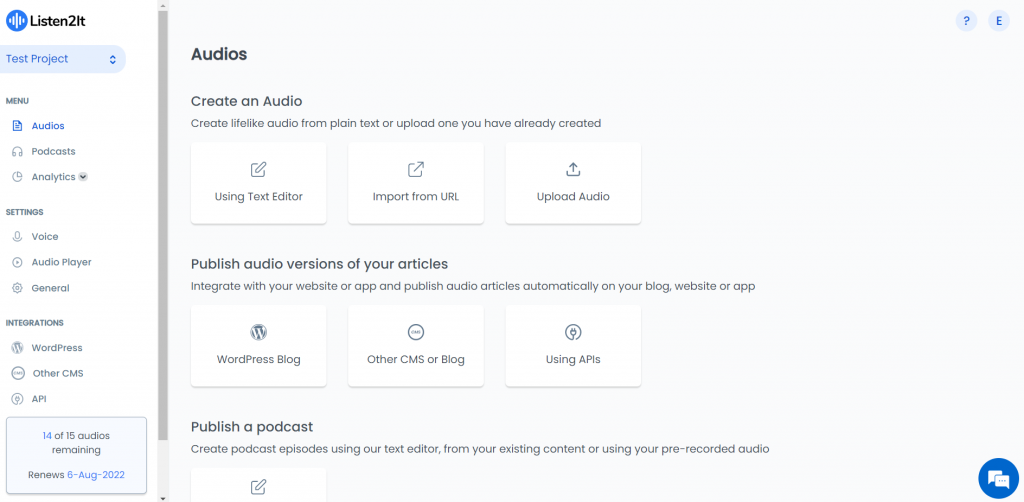 Step 4. Generate Audio
Title the audio in the editor. Here there are options to change the voice, add pauses, change the audio style, and alter the pitch, volume, and speed. Generating unique audio for adding voiceover to video with Listen2It now is an easy and quick task. Type in the dialogues or copy-paste the dialogues in the text to the voice editor. Preview the audio and click on generate audio to generate the voiceover to the video.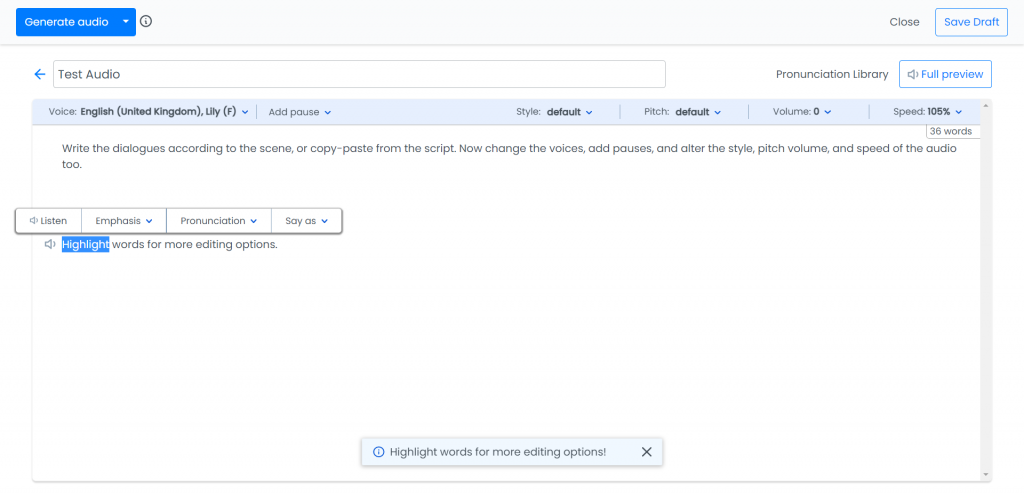 You can either choose generate and download audio option to download your audio at once or click on generate audio option and download it on the project page.


Tip: By highlighting a specific word, you can explore more options like listen, emphasis, pronunciation and say as.


Step 5. Sync the audio and video
The video editing software imports the downloaded voice-over files and syncs them to the video according to the scene.
Tips on how to add text voice in video
Create different scenes
Divide the video into multiple small scenes to have great control over the voice. Multiple scenes can help add pauses and emphasize the text's voiceover to the voice editor.
Write a script for each scene.
A well-crafted script for each scene will make the task of the text-to-voice editor easy in the text-to-voice generator.
Copy the dialogue to the text-to-voice generator tool
According to the text-to-voice generator tool chosen, copy and paste the dialogue, and with the preview option, listen to the voiceover.
Adjust Pronunciation
For a complete life-like voice, the text-to-voice generator tools have options to adjust pronunciation add pauses, alter the speed of the voice-over, and emphasize certain words according to the script and preview.
A perfect lifelike custom voiceover is ready for your videos.
Choose a text-to-voice generator that matches the project's requirements and sign up. Here's a list of the best text to speech tools with their features to assist you in deciding on which text to voice generator to use to add text to voice to the videos.
Head on to Listen2It to explore its features today.