Knowing how to make a PowerPoint presentation is a requirement for most jobs. Mastering the art of adding transitions and animation is not enough for making PowerPoint presentations presentable. Knowing how to add voiceover to PowerPoint slides is a must for self-running presentations. A good presentation is a combination of a message communicated with how it is expressed. Adding audio to PowerPoint slides can be a great way to finesse the presentation.
Having presentations for in-person meetings, employee training, sales presentations, classroom lectures, or notes for students, etc., with audio is a way to up the presentation. Hence, knowing how to add voiceover to PowerPoint slides is a must.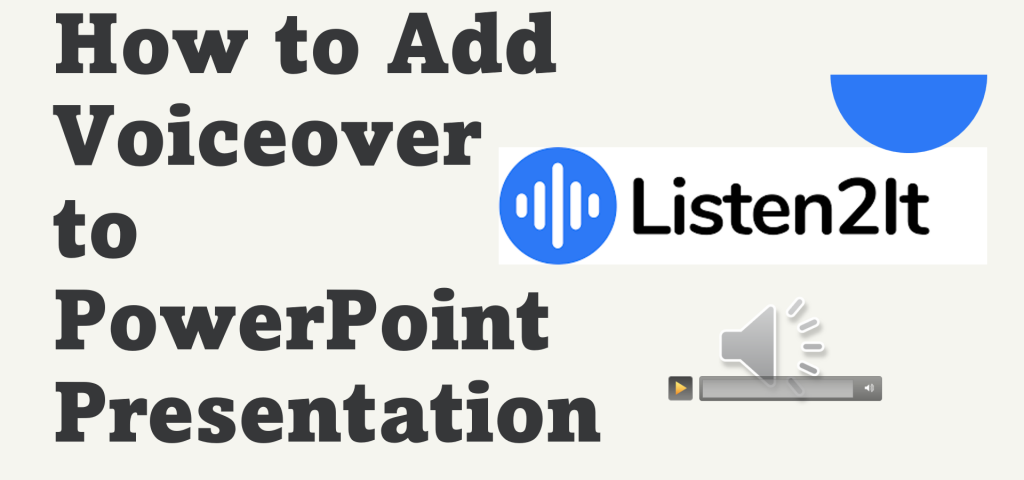 One of the advantages of adding audio to PowerPoint slides is that if the deck is a part of a lecture or a product demo. The self-narrated PowerPoint presentation will be sufficient for any future reference.
PowerPoint has an embedded voice recorder that allows you to add audio to slides. But this feature of PowerPoint has its limitations: a robotic voice with a default English language. And then, there are other external limitations like not having the proper equipment or proper environment to record audio.
Ways to add voiceover to PowerPoint slides
There are three ways on how to add voiceover to PowerPoint slides,
Record audio

PowerPoint presentation has an embedded voice recorder that allows you to record your voice and add to the slides.

Use an AI voice generator

An AI voice generator (text-to-speech software) is a great way to add audio to presentations by entering the text into the editor and generating a life-like voiceover in any language.

Listen2It is an AI voice generator with 145+ languages and dialects in 900+ voices.

Adding pre-recorded audio

PowerPoint has an option to add pre-recorded audios to the slide by just uploading the audio file onto the slides.
How to Add Voiceover to PowerPoint Slides?
Here are the steps you need to follow to add voiceover to PowerPoint slides using an AI voice generator,
1. Create the PowerPoint presentation
Start with creating the PowerPoint presentation. A complete presentation will help add what kind of voiceover and match the timing of the animations too.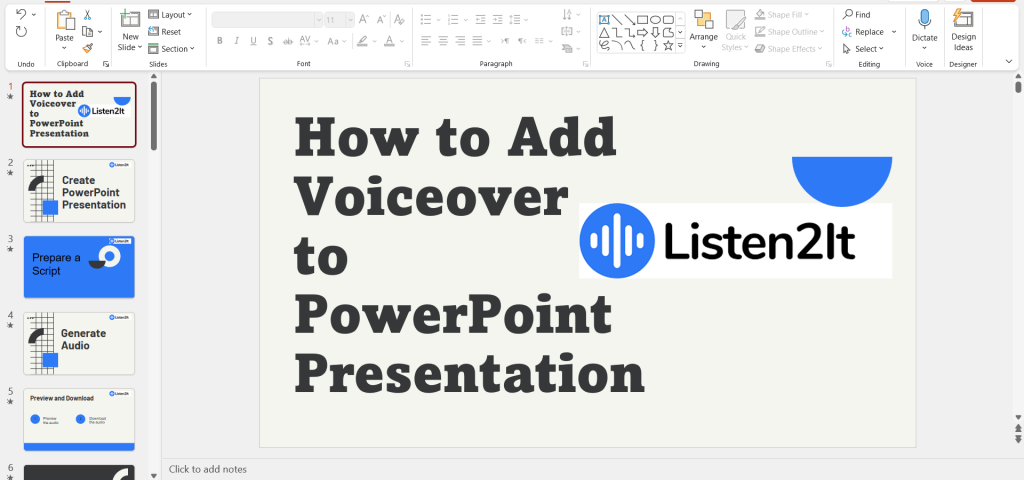 2. Prepare a Script for Each Audio
A script will make adding voiceover to a PowerPoint presentation much easier. Once the script is ready only thing that's left is to copy, paste, download, and upload. A presentation will be complete.
3. Generate Audio
Generation audio with Listen2It is 5 step process,
Sign Up to Listen2It

Create a project

In the project, you can choose the language and voice. In addition to this, voice edition options like speed and volume are also available on the project creation page.


Create an audio

Once the project is created, you will be directed to Listen2it's product page. Listen2It has an option of creating voiceover, creating audio articles, and publishing podcasts.

Click on using a text editor for generating voiceover for PowerPoint presentations.

Preview and download

In the editor, paste the script or type in the message you want to generate audio for.Listen2It has options of voice changing, adding pauses, changing style, pitch volume, speed, emphasis, and pronunciation.

Edit according to the requirement, preview to check the audio, and generate audio.
4. Upload the audio file to the PowerPoint presentation
Go to the slide where you want to upload the audio

In the insert, tab click on the audio

Choose the option audio from my pc

Upload the audio from your pc
And the audio is up!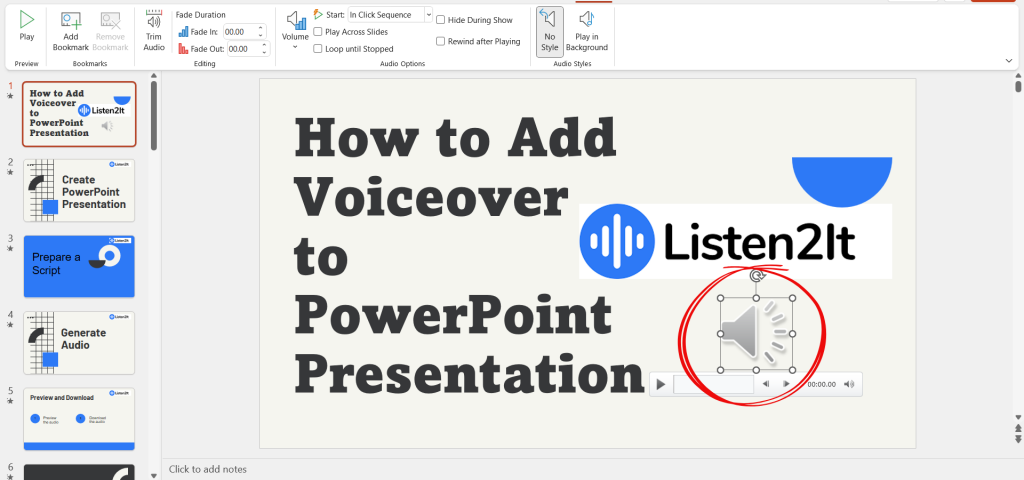 5. Formation options
While PowerPoint does not have many options to edit the audio, basic formatting options to match the brand and play is available. Following are the formatting options,
Audio format
In audio format you can format the appearance of the audio button on the slide.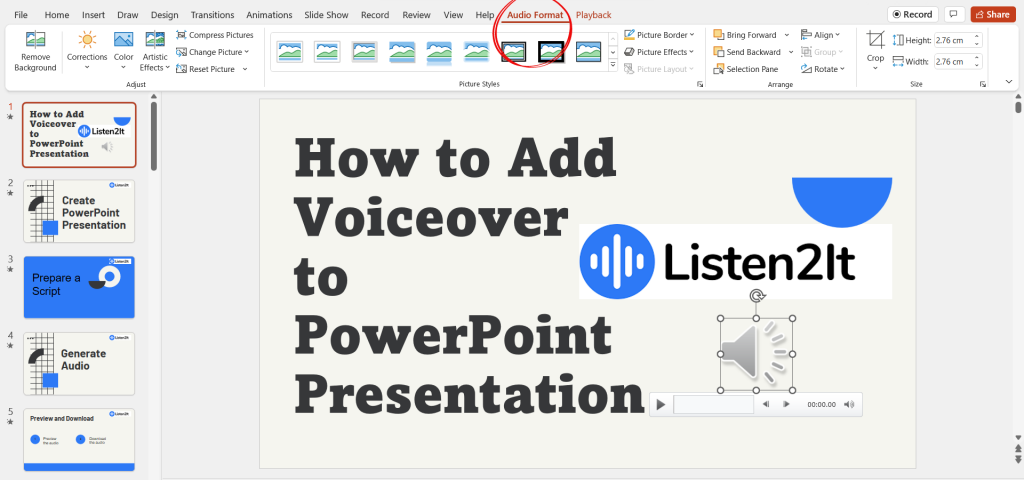 Playback
Playback formatting option allows you to preview the audio, edit audio like trimming, audio options gives you the option to change the volume of the audio, playback sequence, loop play option and much more.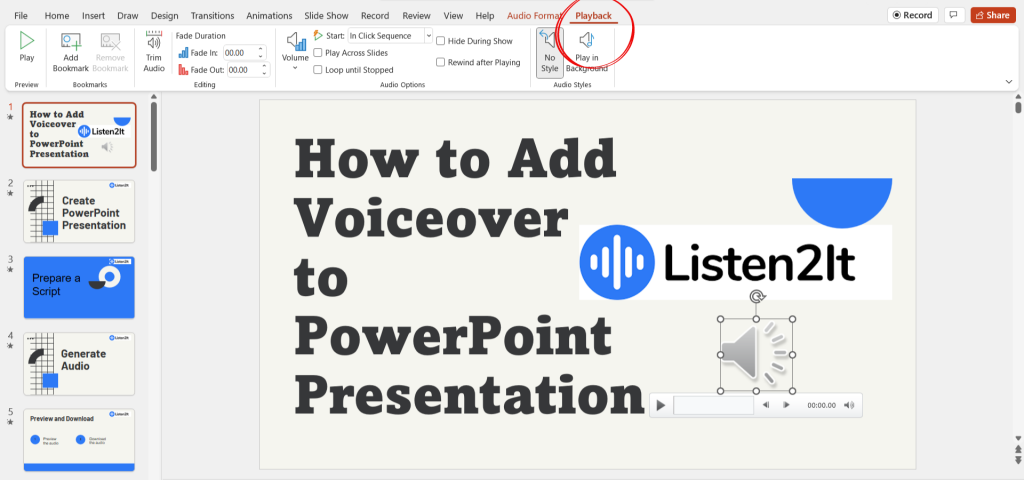 Audio has become an integral part of our lives again. Head over to Listen2It to discover the languages and voices you can use to add to the presentation and leverage the power of audio.