Tom Standage, the Deputy Editor at The Economist, once stated, "Our evidence suggests that the audio edition is a very effective retention tool; once you come to rely on it, you won't unsubscribe." In the current world where everyone is figuring out the fundamental importance of audio, let's look at how the world would look without audio.
Importance of Audio
The audio industry has made substantial inroads into the digital space. Major companies and news publishing organizations have adapted audio articles to boost audience reach and increase retention. Technological developments in the audio industry have grown tremendously to match the demand & supply. Over 193 million people in the US aged above 12 years listen to online audio every month, and the number keeps growing.
Why Do People Prefer Audio?
People tend to skip or skim video and text when consuming the content, which results in missing important information. On the other hand, audio stays with people for a more extended period, similar to music. Most videos are devoted to the visual components, but this is not the case with audio. Listening to audio helps users understand and process information more quickly by providing unbiased content. There are many more reasons people prefer listening to audio over video.
According to a report, audio marketing spending will surpass over $20 billion by 2021. You can advertise in multiple places and create your own branded podcasts and audiobooks, so audio content can be an essential component of your content marketing strategy in the future.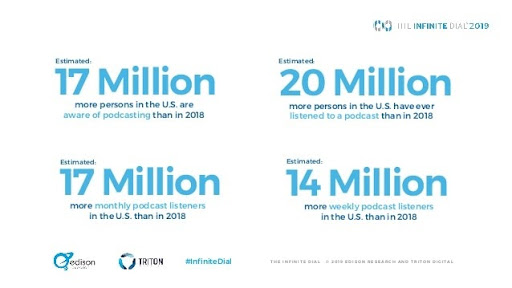 Source: Edison Research
How are Companies Adapting Audio?
Audio content has been influencing individuals over the years as it is more convenient to consume than other forms of media. Interaction with audio is easy and unmatchable. In May 2019, Google announced the inclusion of podcasts and other audio media in search results that increase your website's SEO rankings and enhance its visibility. Audio content is also becoming more of a necessity for your brand rather than a luxury offering.
The BBC, Uber, LEGO, GE, Shopify, and GE invest in audio content, including Alexa Skills and podcasts. By 2022, the US audio marketing market will most likely exceed $20 billion. M&A (Mergers & Acquisitions) have totalled over $1 billion in the audio market in the past year. Companies like Amazon and other social channels like Facebook, LinkedIn, and Twitter have considerable investments in the audio sector. These channels have their podcast feature hoping that consumers will also adopt it. Due to this, companies are likely to give audio marketing more attention in 2021 than they have so far.
Conclusion
The major brands are moving fast towards adopting audio, and without audio, the world is just a muted television. Here are some reasons why you shouldn't ignore audio. Because, yes, understanding the importance of audio has become one of the crucial tasks for every business.
You don't have to go the hard way just because you have to produce high-quality content each day. With audio content, your marketing efforts will be easily achieved as the demand for audio is on the rise. Audio content allows a business to scale sooner and get a broader audience.
With Listen2It, adding audio to your content has never been easier! It solves the audio generation problem with an easy-to-use tool that converts all your existing content to audio and widens your reach. It's time for you to expand your audience without putting in the additional effort.