With the recent events that the world has seen unfold, we humans did what we do the best evolve, adapt and conquer. Learning never stopped for us. From working from home to learning from home, we have adopted the new normal. With more learning and working from home, google slides have become an integral part of our days for most of us. Working on a deck with team members to teaching sessions, everything is now on google slides. An additional skill to have on google slides apart from animations is knowing how to add a voiceover to google slides. With a text-to-speech tool, you can now easily add voiceover to google slides.
Google slides do not have the feature of audio recording. There is no such embedded voice recorder on google slides. Hence, adding voiceover to google slides can become a few steps process. Keep reading to know how to add a voiceover to google slides.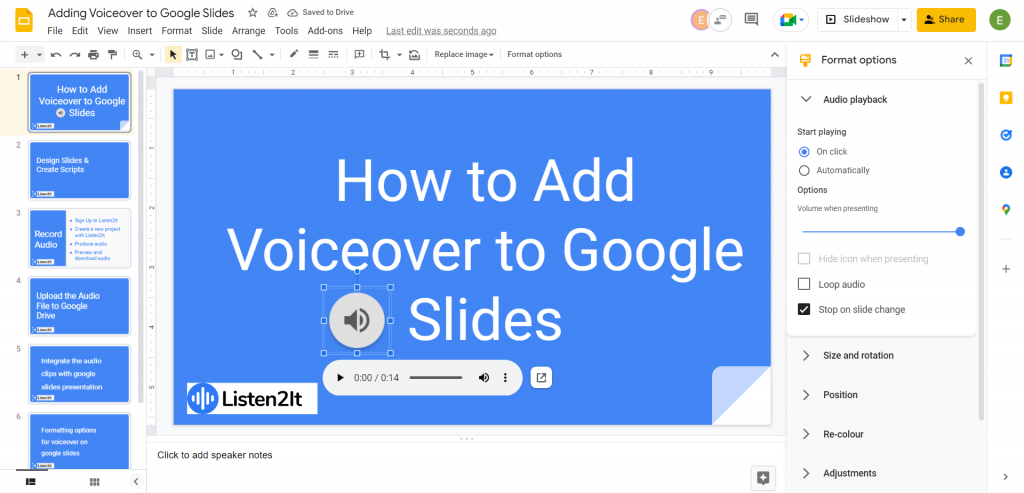 Adding voiceover to google slides with a text-to-speech tool can not only be an inexpensive option but also save your time. All you need to do is add the text you want to generate audio for and press on generating and download audio, and there you go, your audio file is ready to be attached to your google slides.
How to Add a Voiceover to Google Slides?
1. Design the Slides and Create the Scripts According to the Slides
Create the slides you want to present; an additional tip for easy compilation is to get a script ready for the presentation that has been created. This will assist in organizing the presentation and provide a sense of timing.
Create the presentation by logging into your Google account or create a google account if you don't have one already. Once you have logged in, there will be a grid-like icon on the window's top right corner. Click on the icon and select the slides option.
Google will direct you to the google slides doc, and you can choose from the various templates provided by google or select the blank presentation to create something different.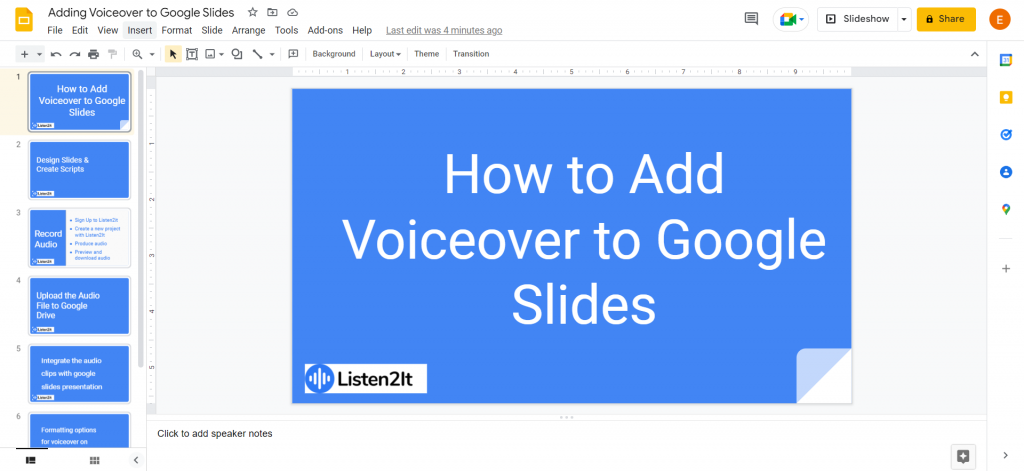 2. Record the Audio
Once the presentation is complete and the script is ready, it's time to record the audio for the presentation to add voiceover to google slides. There are a couple of ways of recording the voiceover for google slides. Still, the easiest, fastest, and most economical way of adding voiceover to google slides is using an AI voiceover generator (text to speech tool). Follow these steps to generate voiceover.
Sign Up for the Listen2It account

Create a new project with Listen2It

Add a project name, select language and voice according to the project and preview the voice to listen to the life like audio that will play in the slides and hit on create a project.


Produce an audio

Click on using text editor.

In the text editor paste the script of the audio, here you can edit the voice by changing the style, pitch, volume and speed. You can even change the voice and emphasis and pronounce certain words.

Preview and download the audio file
3. Upload the Audio File to Google Drive
On the google drive window, the top left corner will have a + icon to create new projects.

Choose folders and create a new folder (Audio files project name) for adding voiceover to google slides audio files.

To upload the audio files in the new folder, downloaded from the AI voiceover generator, drag and drop the files or click on the + New in the top left corner.
Choose file upload or folder upload and upload the audio files.
4. Integrate the Audio Clips with Google Slides Presentation
Open the already created presentation doc (google slides).

Open the required slide to add voiceover.
On the menu tab, select the insert option, and a dropdown list will appear.

Click on insert audio, and two actions will take place
An icon will appear
A dialog box with format options will appear
5. Formatting Options for Voiceover on Google Slides
Adding voiceover to google slides comes with great customization options. From changing the button's appearance to audio playback options like start playing on click or automatically, volume adjustments and audio on loop and stop on slide change are available on google slides for voiceovers.
And the presentation is complete.
Use Cases for Google Slides with Voiceover
It is great to know how to add a voiceover to google slides, but here are some use cases where you can use adding voiceover to google slides to up your presentation.
Online Courses

With the world shifting to new normal and online courses providing has now gained importance. Various websites provide great information on a plethora of topics, and google slides are one of the most used tools as it provides easy sharing and access to multiple people. Adding voiceover to google slides for online courses will improve the quality of the course and help in better understanding.

Marketing Deck

Sending an email to your clients with your marketing/sales deck is a crucial step for any business. This is your offering/proposition, and you are finally out in the market. Hence having a tight marketing/sales deck with a voiceover can help your client understand the offering efficiently.

YouTube Educational Videos

Digital space has grown in this past decade, with the Internet being available to everyone on their devices. Social media platforms are a part of this new age. With entertainment, social media platforms also provide a great opportunity to learn. YouTube educational videos are the new learning yard, and having google slides for reference material is like having notes from the lecture.
Now that you know how to add a voiceover to google slides, explore more about the audio content and learn about the various opportunities a text-to-speech tool offers on Listen2It