Since Instagram reels and TikTok grow in popularity, video creation has become even more essential. Business owners and creators need to curate engaging content with ease and affordability.
The most reasonable way to do it is to start using iMovie.With its intuitive and user-friendly interface, you can upload videos, edit music and add voiceovers in minutes.
iMovie truly is one of the most favored video-editing applications available right now. It has become increasingly popular editing videos for YouTube and other social media channels. In iMovie, you can transform your clips into movies, add a voiceover with an inbuilt recorder, pre-recorded voiceover, and TTS voiceover with Listen2It.
Professional and easy-to-use nature of iMovie
It is important to note that professional-grade tools like Adobe Premiere Pro and Final Cut can be expensive. Since iMovie is free, it's an excellent place for beginners to start.
Its intuitive design makes it the best video editing for all users, from beginners to professionals. It is a widely used and favored software among them.
But, the biggest drawback with iMovie is that it works only with Apple products. Nevertheless, if you have an iPhone or an iPad, you can download iMovie from the AppStore and enjoy editing videos on a mobile device.
Before we jump into the voiceover part, we must start by importing individual clips into the software.
Step 1: Create a project and select Movie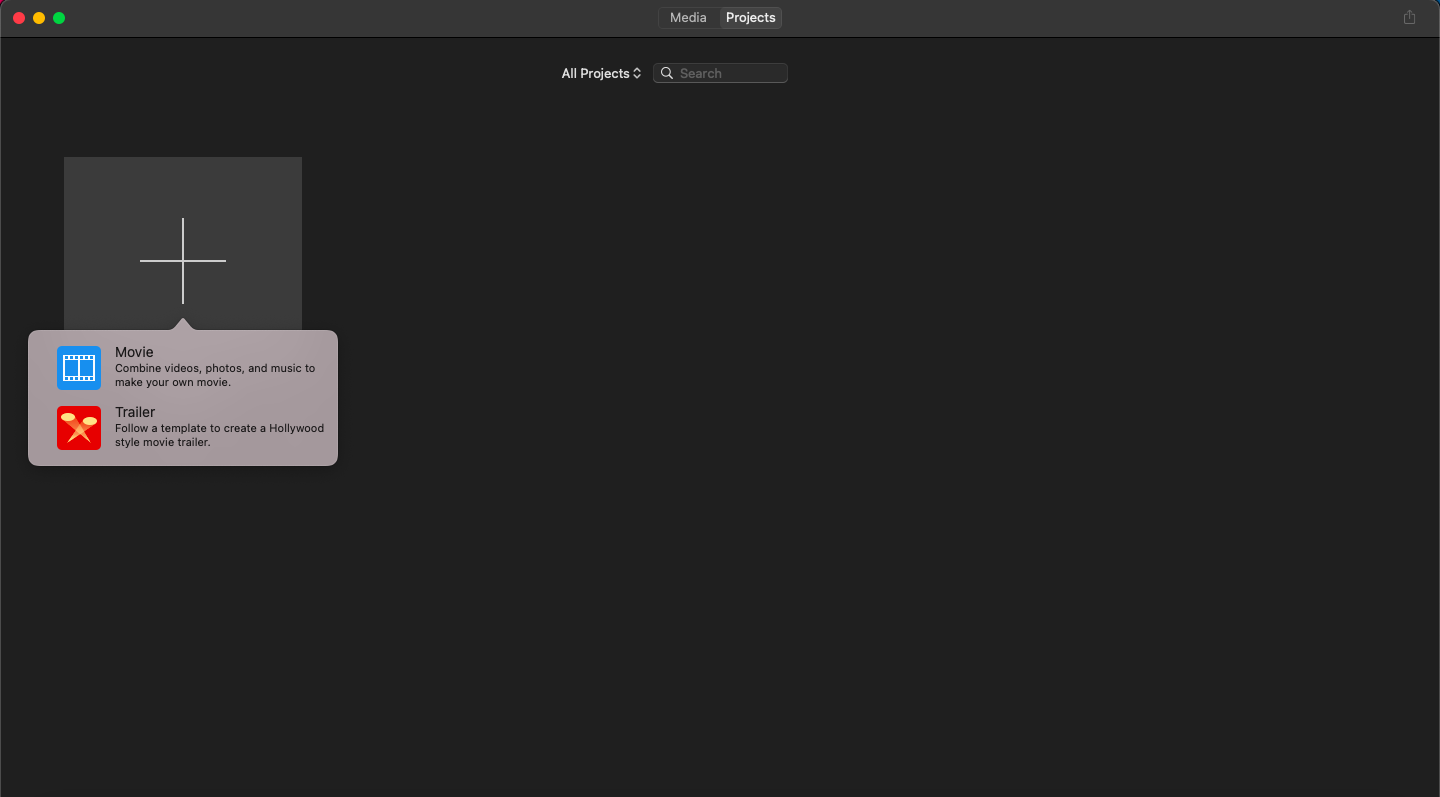 Step 2: Click on the import button or use the shortcut ⌘ + I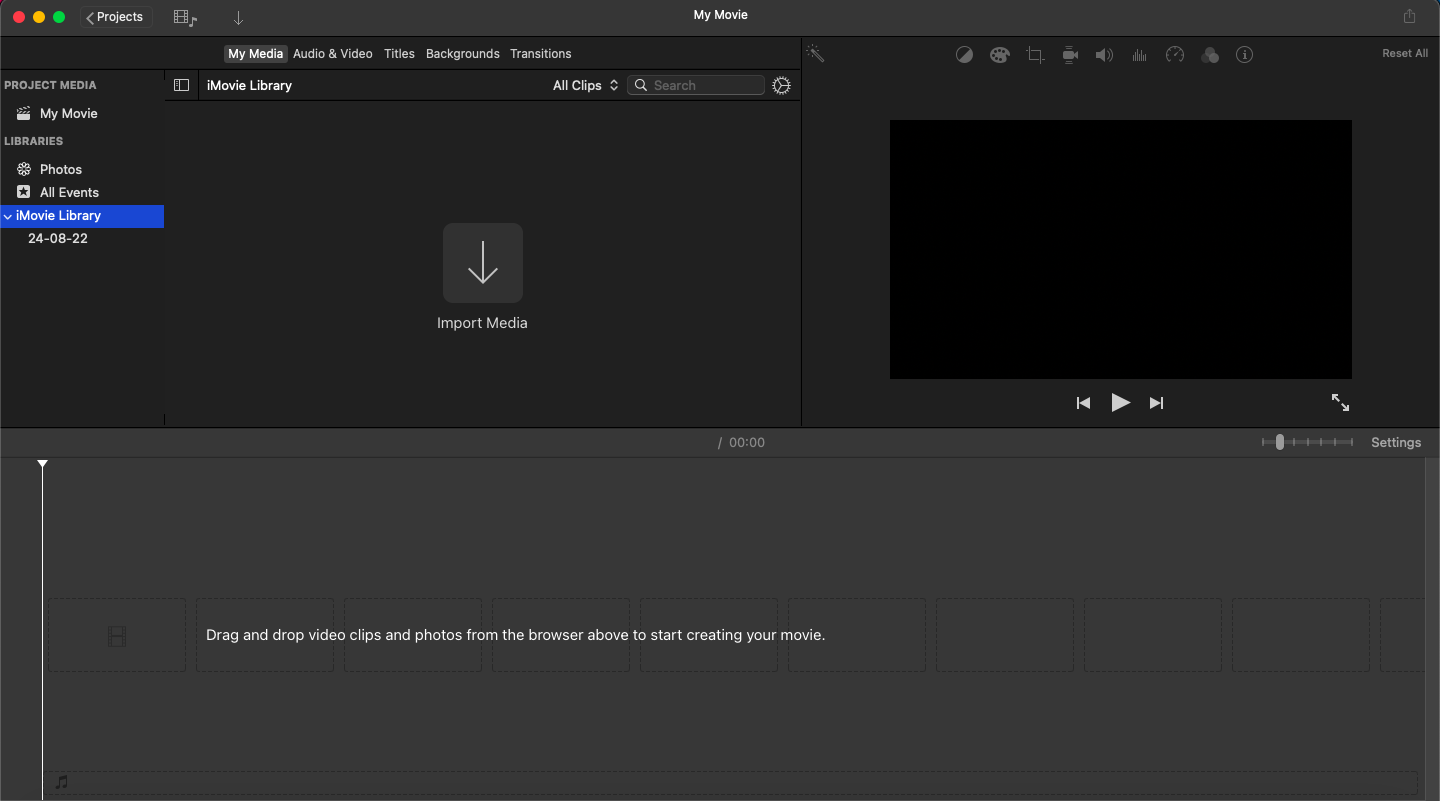 Step 3: Select your video clips and click "import selected."
Step 4: Add video clips to the timeline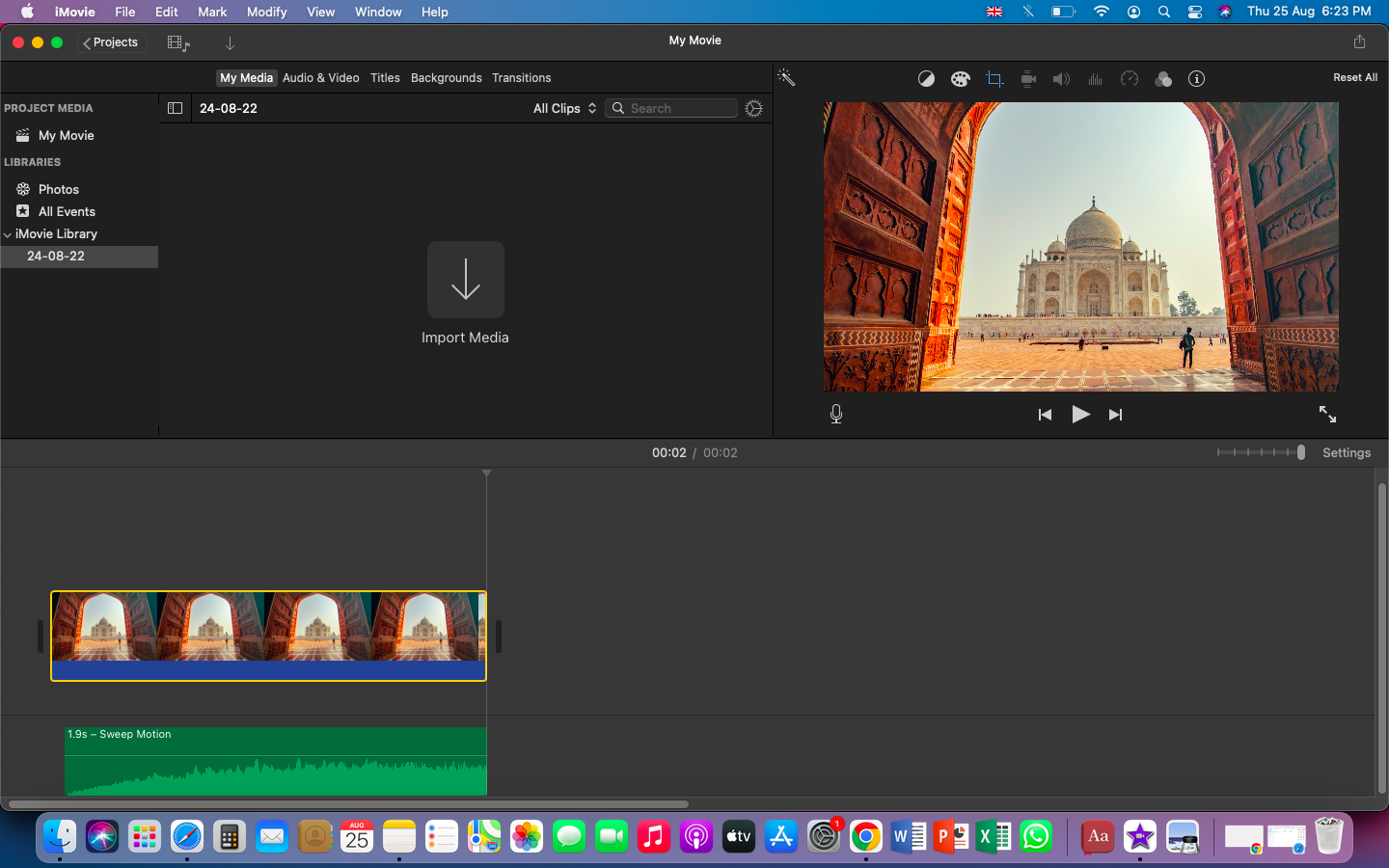 So now we come to the main question, how to add voiceover to iMovie?
Well, without further ado, let us get started.
Here are 3 Ways to add voiceover to iMovie
Inbuilt recorder
To record your voiceover, once you have imported the video and trimmed it accordingly, it comes down to adding a voiceover. Select the microphone button below the preview screen, and you will notice a red button below. Click the button to start recording your audio.
Once you have finished recording on iMovie, click the record button again (which is now a stop record button). The sound clip will be added automatically to iMovie, and your voiceover is ready for editing.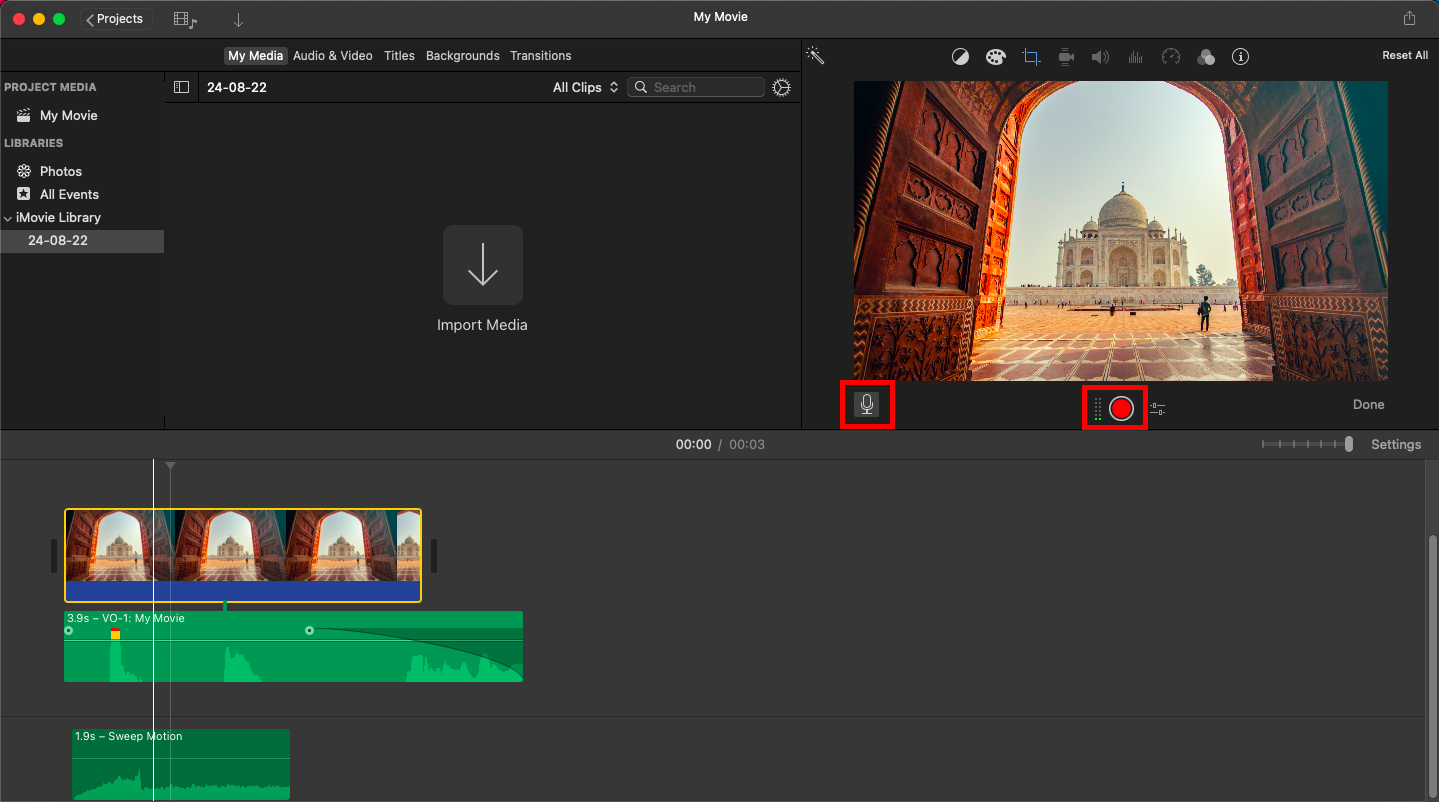 Pre-recorded voiceover
Here is another way to add voiceover to iMovie, a pre-recorded voiceover. If you have a professional microphone and a quiet place to record to work, it's more than enough to get a professional recording of yourself. But surely it will take much time and effort to do the same.
After you have saved your recording, you can upload the voiceover in the video clips. By simply dragging, it can be fine-tuned as per your needs.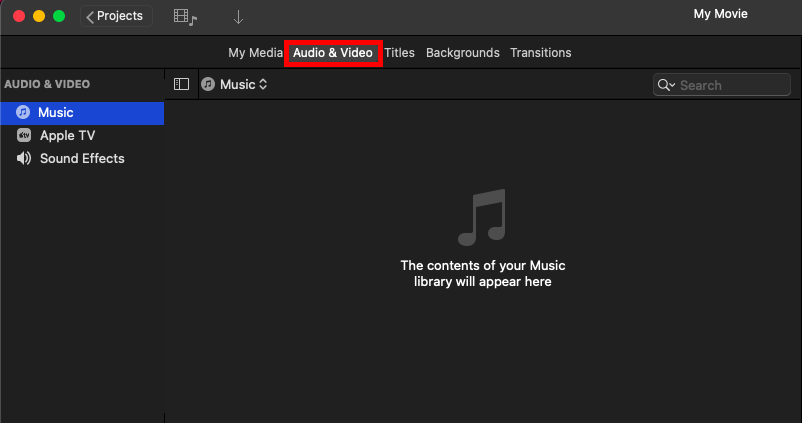 TTS voiceover with Listen2It
The most cost-effective and quickest way of adding voiceover to iMovie is by using Listen2It. With Listen2It, you can edit the voice by adjusting the style, pitch, volume & speed. Furthermore, you can also modify the voice, emphasis, and pronunciation of certain words.
Follow these easy steps to generate voiceover with Listen2It:
Sign up for an account with Listen2It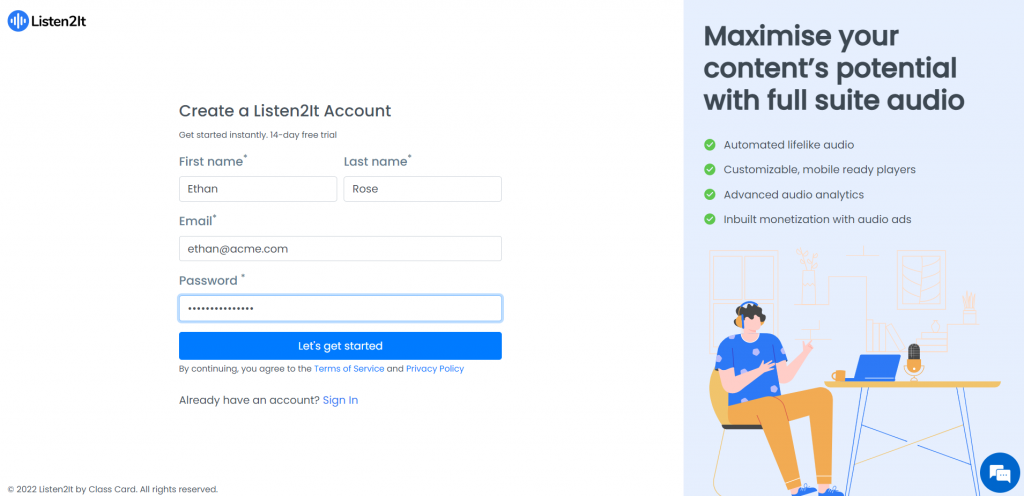 Create a new Listen2It project
Once signed up, create a new project by adding a project name, and select language and voice according to your requirements. You can also preview the selection before you hit create project.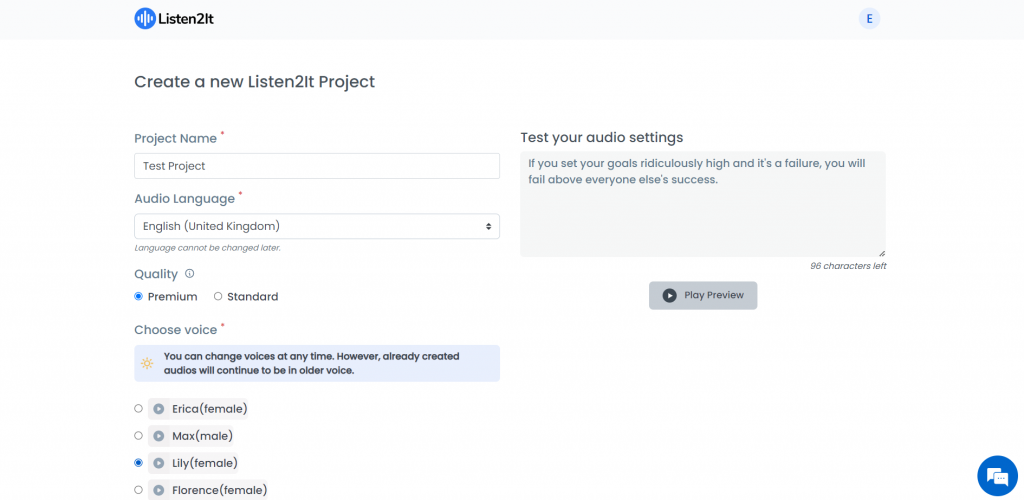 Once you have arrived at the Listen2It dashboard, create audio by clicking on "using text editor."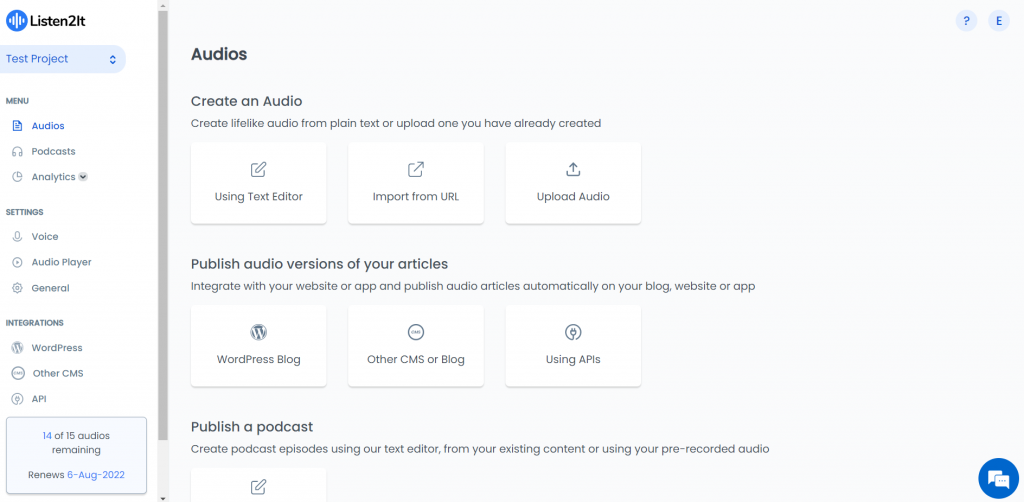 Here's where the magic happens, in the editor, add the script of the audio, and you can adjust the volume, pitch, speed, and style. Additionally, you can change the pronunciation and emphasis of certain words and add them to the pronunciation library for future reference.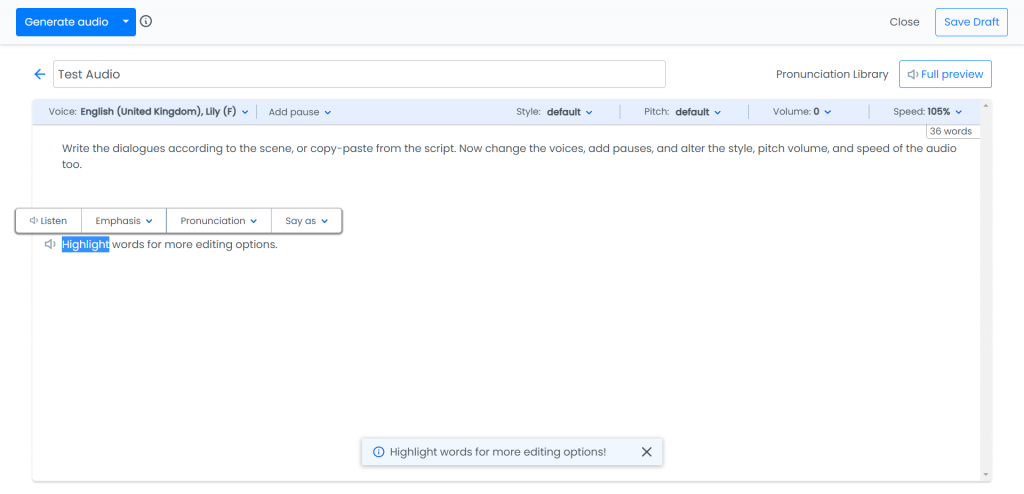 As shown earlier, once you download your audio, add the file in iMovie and trim it with the video clips. This way, you have a very human-like AI voiceover for your video.
Advantages of using TTS for voiceover
Ease of use
TTS is a very intuitive way to create and generate voiceovers for your videos. Both beginners & professionals can use it without any trouble as it is designed keeping the average user in mind.
Fast
Indeed, speech synthesis is the best and fastest way to convert your text to audio. It is designed in a way that allows you to work 3 times faster.
Affordability
Yes, TTS is affordable, keeping in mind the average user. Compared to hiring a voiceover actor TTS is an inexpensive and most immediate way of generating lifelike voiceovers.
Easy to use in different languages
With Listen2It, you have 580+ lifelike voices and 75+ languages offering realistic voices for every type of content.
Since you know what TTS offers to you & that the quickest and most affordable way to add voiceovers to iMovie is on Listen2It.
Head over to discover the languages and voices to add to your voiceover and leverage audio to its fullest.