A podcast is a mix of iPod and Broadcast. Podcasting was intended for individuals to share their message and build a community of people with the same interest. There are currently over 2 million podcasts and more than 48 million podcast episodes.
Podcasts can be broken into seasons ( just like a TV Show) or be episodic and ongoing. These Podcasts are released daily, weekly, and at times even monthly. Podcast listenership is growing dramatically with major podcast platforms such as Spotify, Apple Podcast, Google Podcast, Stitcher, TuneIn, etc. According to a research, there are 67 million monthly podcast listeners in the US. . Additionally, from the latest podcast industry report, In 2021, the number of monthly US podcast listeners will increase by 10.1% year-over-year (YoY) to 117.8 million.

Image Source: Nielsen
Moreover, businesses are creating podcasts to interact with potential customers and ultimately reach their objectives.
Certainly, podcasts can help you reach a greater audience and build a community you're endeavoring.
Here Are the Major Benefits of Podcasts
1) Podcasts Offer a Low Barrier to Entry
During the Golden Age of radio, competing with the best possible station required high-end equipment and state-of-the-art studios. Luckily, times have changed.
Podcasts are a great way to create content, tell a story, and publish to your audience easily, which is naturally a great fit for your content marketing strategy and eventually for perennial success.
2) Audio Content Is Easy to Consume
Most types of content require undivided attention, like videos, blog posts, etc. But with podcasts, your audience can listen to an episode anywhere, anytime- gym, work, at home, on the go, while driving, etc.
A podcast is unrivalled by any other form of content in today's digital age regarding the freedom listeners have when consuming it.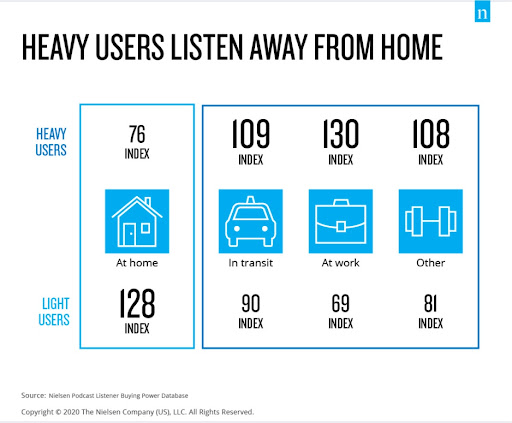 Image Source: Nielsen
When listening to a podcast, individuals can multitask, which ultimately leads to more engagement. Your audience is happy to commit to an episode, knowing they can do the dishes or ride the subway while doing so.
3) Podcasting Allows Communicating with a Captive Audience.
These days frequent travelling has become common for every individual. With lifestyle on the go, the power to have podcasting on demand allows content creators to tell their story anywhere and anytime. This helps to establish authority in your niche and create brand advocates down the road. Content consistency is an essential factor in keeping people engaged with your brand. Make your podcast accessible to your community via your blog or other social platforms to increase your audience and eventually grow.
4) Collaborations & Productivity.
If you work continuously in your niche and closely with other content creators, podcasts are a fantastic way to circulate industry news and share ideas. This eventually increases productivity, as podcasts are a way to keep everyone in a loop beyond their usual meetings and one-on-one conversations. You grow your audience with every collaboration you are part of.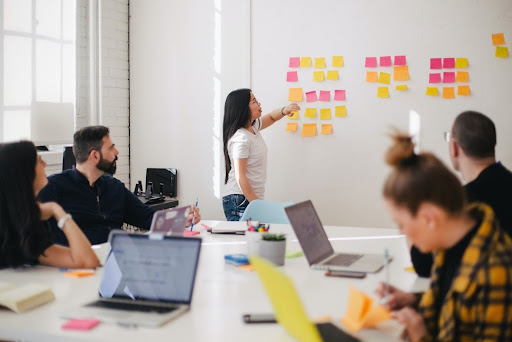 Source: Unsplash
5) Podcasts Contribute to Content Creation.
Podcasts sync with written and video content to create a collective content front that resonates with your overall audience.
Certain podcast episodes can spark new blog posts and video content ideas, and you can use podcast copies to create new articles, videos, and more.
Alternatively, different content types can serve as the basis for podcast episodes. You can use your existing content to develop a podcast episode topic, and you can engage in an entire podcast conversation with the writer or even ask them to appear as a guest on the podcast.
Conclusion
Podcasts play a vital role in your content strategy as it builds a huge community for your content. A solid framework of your marketing strategy must include all mediums available today to engage your audience and build brand loyalty.
Therefore, these are 5 benefits of podcasts that can help you gain more subscribers. Do give it a try and grow your audience up to four times using audio. If you are looking for some inspiration, here's a list of the most popular podcast for content marketers.
What primary forms of media do you use within your content strategy? Let us know down in the comments.