Ghost is an intuitive platform with a minimal and straightforward user interface. It is not a general-purpose website building platform like WordPress; primarily, it is used exclusively as a blogging platform. Using it, you cannot create an e-store, a forum, or other types of website.
An open-source blogging platform, Ghost allows users to create blogs quickly and easily. Users can create a blog with an existing domain or use the offered ones.
Contrary to WordPress.com, Ghost only offers a 14-day trial (there is no free version of the hosted version); the hosted version offers no limitations. Regardless of which variant of Ghost you use, you can upload themes and content using FTP.
Currently, the Ghost blogging platform provides fee-based packages only. To upgrade to Ghost, you must choose one of the following packages: Basic – $36, Standard – $99, Business – $249.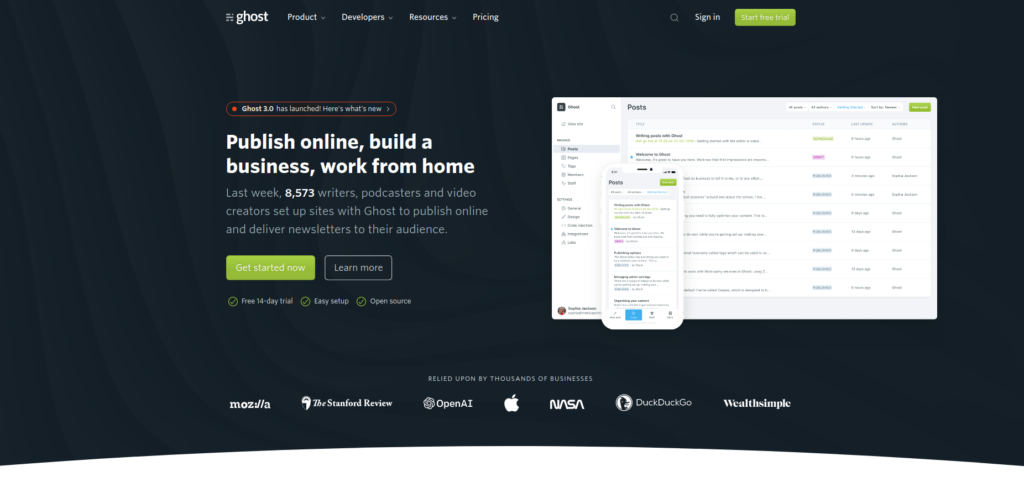 Features of the Ghost Platform
Ghost is a lightweight & versatile platform created perfectly for beginners and offers a fine-tuned suite of editorial tools. This platform gives you the freedom to use every available resource.
Ghost's strengths are essentially the following:
A flexible open-source publishing platform
Integrates well with SEO & Social tools
A combination of finely tuned editing tools
Affordable pricing
Diverse Branding/Themes
Ghost runs using the Node.js framework — a lightweight alternative to other platforms that use PHP. Because of this, Ghost can perform dramatically faster than other competitors.
How to Start a Blog on Ghost
To start with Ghost, firstly, you need to sign up with the platform. It has different pricing packages which are well suited for individuals, small & large scale businesses.
Providing your name, surname, email address, and credit card information is required. Ghost cannot sign you up without card information.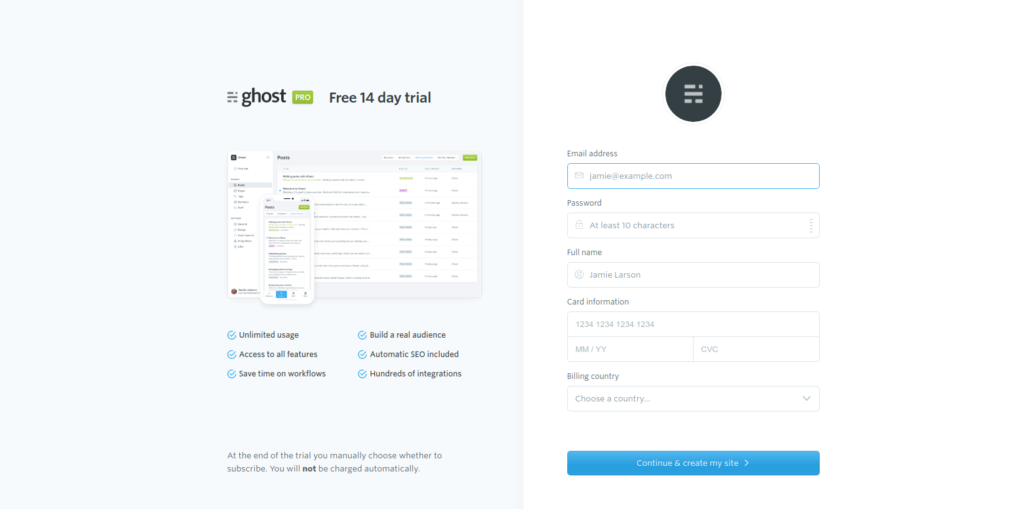 Once you have confirmed these data, you can begin configuring your profile.
Hosting Your Ghost Blog
To start your blog, you should first determine where you will host it. Similar to WordPress, when it comes to hosting, you have two options:
Self-hosting, in which you can download Ghost for free, then organize and maintain your server, or
Hosted on Ghost's servers so they can take care of the technology and you can focus on your blogging.
Select a Ghost Theme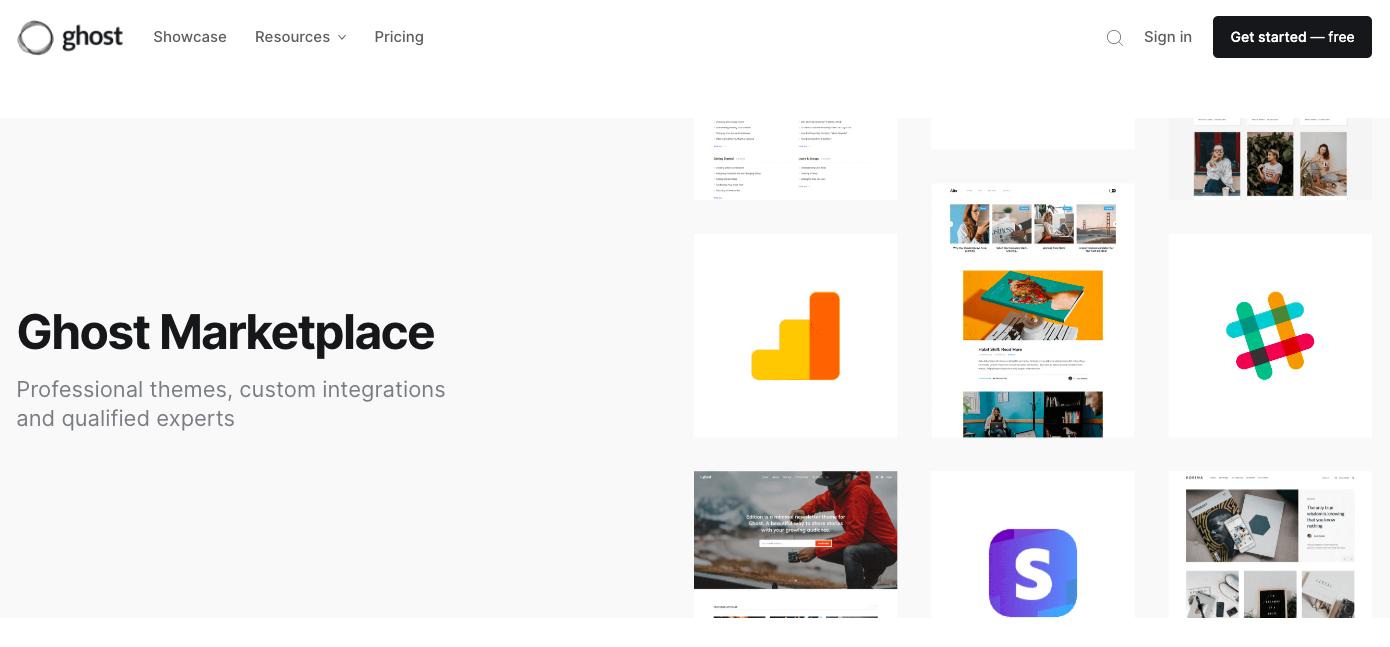 Like WordPress, the theme you choose determines your blog's appearance and feel. There is a wide selection of Ghost themes available, both free and paid. Users can easily access and purchase these themes on the Ghost Marketplace.
Create Your Blog Post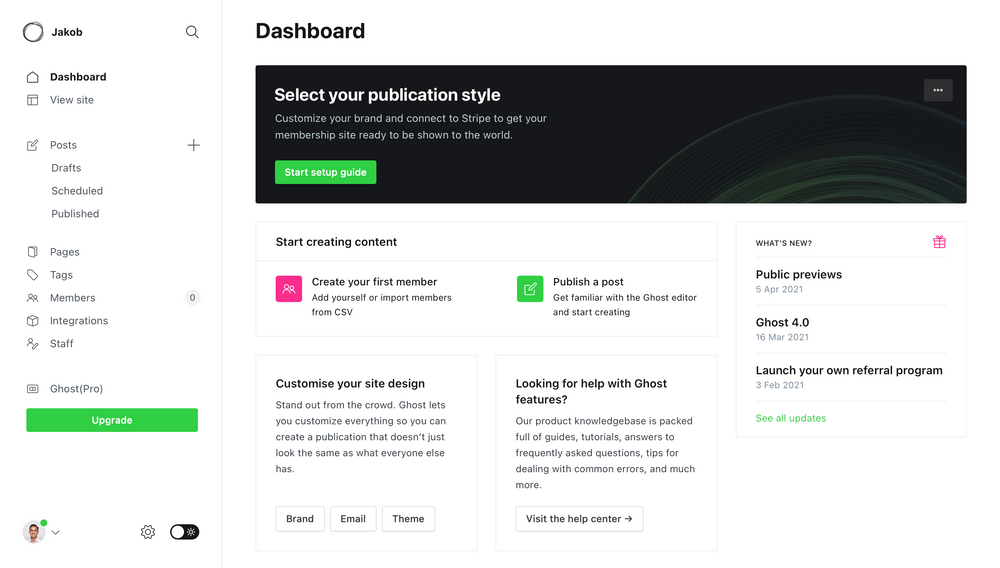 You have got your Ghost account set up, and all you need to do is get started with your first blog post.
Ghost comes with Casper as its default theme when you install it on a new blog.
It also provides a different way to format your content, using something called markdown. The text is usually formatted by highlighting areas and then adding italics, a heading, or bullet points by using buttons or keystrokes. Markdown allows you to type in specific syntax as you go. A headline is created by simply adding a # before the text.
Ghost incorporates tags as a feature that allows you to categorize your posts to make them easier to find. Tags are a good habit to get into, so start as you mean to continue. In the upper right corner, click the tools icon and enter the tags you want for this post.
It also supports SEO (search engine optimization) for improved visibility in search engines such as Google. By editing your content, you can add keywords or change them to appeal to your target audience. Ghost will automatically create a meta title and a meta description for you – these are the titles and descriptions you see in Google search results.
Having finished your post, you'll want to draw some attention to it. To do so, be sure to utilize Ghost's social media buttons and connect your social accounts to your Ghost blog.
Bonus
Listen2it integrates perfectly with the Ghost platform. Audio content will amplify your content marketing strategy and attract your 4x audience, helping you generate more revenue & increasing your customer base.