The History & Future of Audio: All The Statistics, Facts, And Data That Matter.
In recent years, a range of human voice-based technologies is emerging as a means for transmitting information, from audiobooks, podcasts, to voice assistants and speech recognition. Nowadays, audio has revolutionized how content is consumed by individuals.
Audio content has been significantly influencing people's lives & making it easier to consume content & communicate. The way we interact with our electronic gear has changed significantly over the last couple of years.
Apple, Google, and Samsung have introduced individuals to voice assistants which have been a popular technology among us since then.
A look back
Back in the day, the radio played an important role in information consumption. All of this began in the 1930s and continued until the late 1950s and early 60s. The vast majority of Americans, up to 82%, listen to radio exclusively.
Thomas Edison invented the phonograph cylinder in 1877, and it was patented in 1978. This was the first practical device to record & reproduce sound. Besides recording sound, it could also play it back.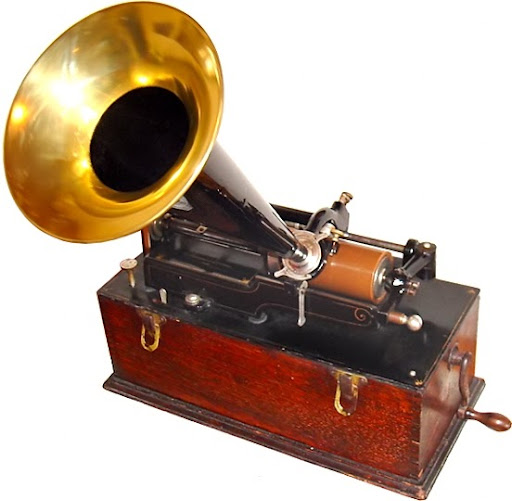 Digital Recordings
In the early stages, companies such as Denon (1972), Soundstream (1979), and Mitsubishi introduced reel-to-reel decks with digital audio recording.
Digital Audio Tape (DAT) was very popular among home studios and radio stations. The consumer audio market did not embrace it much as too expensive & had certain restrictions.
In the consumer market, tapes & gramophones were predominantly replaced by compact discs (CD). Playback of these recording media requires complex electronics due to their digital nature.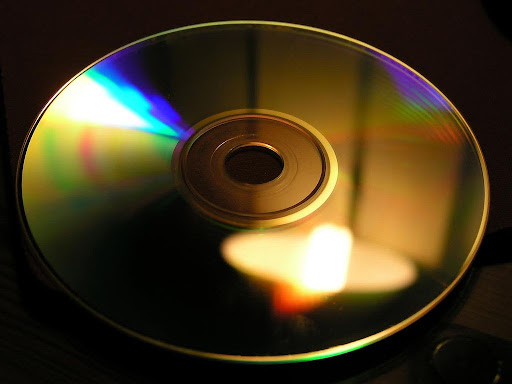 We've got all the statistics, facts, and data you'll ever need
1) When it comes to online audio listening, an estimated 193 million US 12+ people enjoy audio, with an average adult spending close to 1 hour 34 minutes a day. 47% of Americans listen to a paid audio subscription.
2) Spoken-word audio accounts for 26% of digital listening.
3) In the US, 43% of the population listens to spoken-word audio every day. Approximately, two hours are spent each day.
4) Every month, 75% of Americans listen to spoken-word audio.
5) In 2020, the US digital listening time spent listening to spoken-word audio (rather than music) is:
• Age: 13–34 (22%), 35–54 (27%), 55+ (30%).
• Race: Men (31%), women (22%).
• Ethnicity: White/other (27%), African-American (27%), Hispanic/Latino (22%).
6) According to 45% of US spoken-word audio listeners, listening in 2020 increased more than the total of the previous five years.
7) Multi-tasking is the most common reason for increased listening reported by 79% of these listeners.
8) 65% of these listeners say spoken-word audio helps them to spend their time productively.
9) In contrast to other media, spoken-word audio engaged 62% of these listeners' minds in a positive way.
Listening to spoken-word audio: how and where?
10) 55% in the US listen to AM/FM radio, 19% with podcasts, 26% on other platforms.
11) 47% of US consumers tune in to FM radio, 31% on mobile devices, 9% on computers, 4% on smart speakers, 9% on other devices.
12) In the US, 54% listen to at home, 30% in the car, 13% at work, and 3% elsewhere.
13) In the US, 54% of spoken-word audio listeners discover new content by browsing the internet.
14) 52% of US spoken-word audio listeners listen solely alone, while 48% usually listen with others.
Podcast Statistics
Around the globe, podcasts are growing rapidly. According to reports and statistics, podcasts are booming in many countries with more and more listeners each year.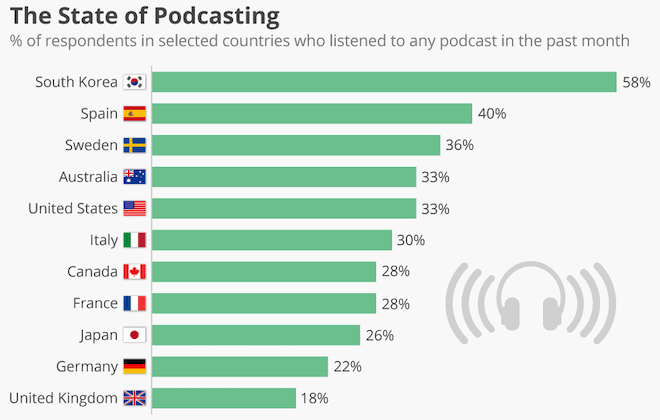 Source: Podcast Insights
15) There are over 1 million unique podcasts available.
16)In the US, around 78.9 million people listen/watch podcasts, and 104 million people listen to podcasts monthly.
17) As of 2020, 75% of Americans were well-versed in podcasting & 73% find podcasts through online searches.
Podcasts and how people consume them
18) Approximately, 79.8% of people consume podcasts while commuting.
19) About 69.3% consume podcasts while doing housework.
20) The other most popular choice for listening to podcasts is during free time (58.9%).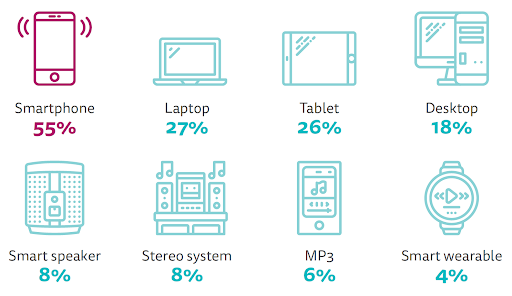 Source: Reuters Institute Digital News Report
21) The report indicates that most podcast listeners in the United States access their podcasts via YouTube (26%), Apple Podcasts (22%), Spotify (17%), Google Podcasts (14%), Pandora (10%), and NPR's app or website (9%).
22) Meanwhile, in the UK, podcast listeners are mainly through BBC Sounds (29%), Spotify (24%), Apple Podcasts (21%), YouTube (14%), Google Podcasts (7%), and other (6%).
23) With regard to Germany, most podcast listeners use Spotify (29%), YouTube (22%), ARD Audiothek (15%), Audible (10%), Google Podcasts (9%), Apple Podcasts (8%) as their primary platforms.
24) In Australia, podcast enthusiasts listen mainly through YouTube (26%), Spotify (25%), Apple Podcasts (23%), ABC app or website (22%), Google Podcasts (14%), and Podcast Addict (8%).
Audio article statistics
25) In spite of the lack of dramatic storytelling and fancy sound effects they may lack like their podcast and audiobook alternatives, audio articles provide readers with a convenient way of consuming information.
26) The most popular method of telling stories according to Gen Y and Gen Z is audio.
27) According to 62% of Gen Ys and 52% of Gen Zs, audio amplifies new opportunities better than traditional media.
28) Non-listeners spend an estimate of 30 seconds on-site, whereas listeners spend 322 seconds on-site.
29) Listeners are 32% more likely to engage in several sessions than non-listeners
30) Returning visitors are 38% more likely to press play than first-time visitors.
Audiobook statistics
31) An estimated 46% of the total 12+ US population have listened to an audiobook in 2021.
32) US audiobook sales rose by 16% and exceeded $1.3 billion dollars in revenue.
33) Most US audiobook listeners listen at home (55%), with 30% listening while traveling.
34) At least 38% of US audiobook listeners subscribe to at least one audiobook subscription service.
35) Business professionals cite accessibility & time savings as the top benefits of audiobooks (26%).
Radio statistics
36) In general, about 55% of Gen Z listens to FM radio every day.
37) Over 89% of UK residents listen to the radio each week for 20.2 hours on average.
38) The average American listens to the radio for 12.2 hours each week. About 88% of American adults tune into the radio every week.
39) Approximately 45% of all radio listening occurs in cars, 32% is done at home and 23% while at work.
Have we overlooked anything? Email to let us know.